---
The Mercedes-Benz Actros has proven its reliability to South West Boat Transport, which recently received a new Actros 1848 to replace another aging Actros. "I acquired my first Actros in 2013 and was so pleased with its performance that I added a second 2 1/2 years ago," says Michael Whelan of South West Boat Transport. "Our trucks typically cover 100,000 kilometres each year, and I've not had one breakdown since I switched to Mercedes-Benz." The new-generation Actros was built on special order and can carry up to 820 litres of fuel and 90 litres of AdBlue.
Range-Topping Features
With bases in Lymington and Plymouth, South West Boat Transport uses its 4x2 tractor units to move motor cruisers and sailing yachts on air-suspended boat trailers with adjustable supports. The delivery routes often take South West Boat Transport throughout the UK, Continental Europe, and Scandinavia, making both range and fuel efficiency a priority.
During its first few weeks on the road, Whelan drove the new truck on a five-day, 3,000-mile round trip to Málaga in southern Spain to collect a 37-foot powerboat. The new Actros averaged 12.6mpg, almost more than a mile per gallon ahead of the older Actros. "The fuel savings are very welcome indeed," Whelan says. Long hauls are easier with the GigaSpace cab, which features a roof-mounted Kelsa beacon bar and additional spotlights, as well as the StyleLine interior, which is equipped with a pull-out fridge and a microwave oven.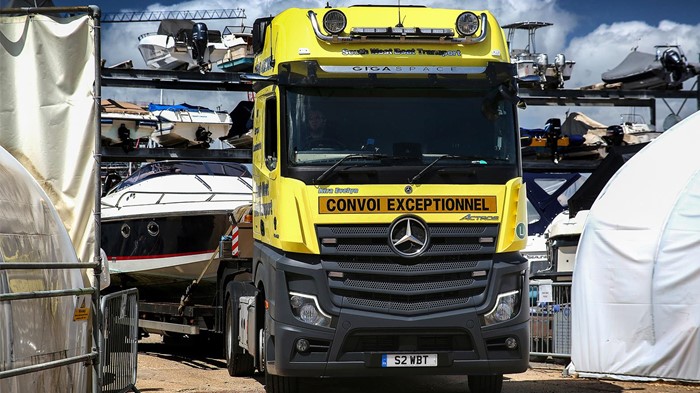 ---


More On The Actros
The fifth-generation Actros, winner of the International Truck of the Year 2020 award, is built for long-distance haulage and heavy-duty distribution. The 18- to 33-tonne truck is available as a rigid or tractor unit with axle configurations ranging from 4x2 to 6x4. There are 17 cab variants in two widths, with roof shape options such as GigaSpace, BigSpace, StreamSpace, ClassicSpace, and CompactSpace. Euro VI engine outputs range from 238 to 625 horsepower (175 to 460 kilowatts) and from 1,000 to 3,000 newton-metres (738 to 2,213 pounds-foot) of max torque.
The Actros' Multimedia Cockpit combines ergonomic and connectivity refinements to allow operators to drive and live in comfort. Standard safety features include a driver side airbag and the Mercedes-Benz Safety Package, which includes Active Brake Assist with Proximity Control Assist and pedestrian recognition technology.
Find The Right Mercedes-Benz Truck
You will find hundreds of new and used Mercedes-Benz trucks for sale on Truck Locator, including a large selection of Actros models.