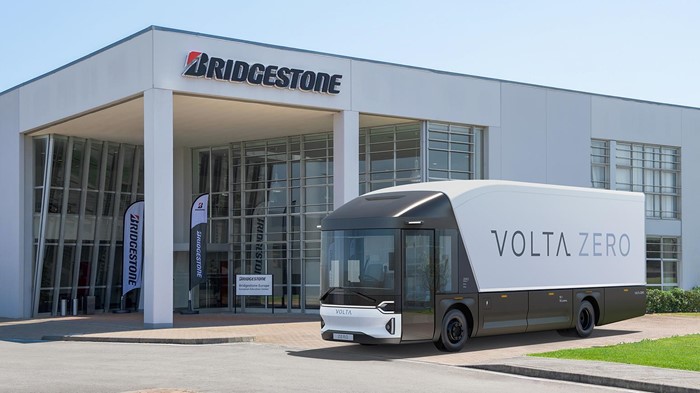 ---
Bridgestone recently teamed up with Volta Trucks to provide tyres for the launch version of the Volta Zero as well as subsequent pilot vehicles that will join fleets for testing early next year. Examples of companies set to trial the all-electric 16-tonner include Scandinavia-based Bring and Posten, as well as the UK-based DPD Group. The Volta Zero, complete with Bridgestone 285/70R19.5 146/144M R-Steer 002 tyres, will make its official debut at a 3 September online launch event.
The Volta Zero is an all-electric delivery vehicle that not only produces zero emissions, but is also made from flax fibre and biodegradable resin that reduces CO2 by more than 75% for a truly sustainable solution. The truck has a top speed of 90 km/h and is powered by a 160- or 200-kilowatt-hour battery that gives it a range of between 150 and 200 km. It also has a payload volume of 37.3 cubic metres and a maximum payload capacity of 8.6 tonnes.
Quiet, High-Performance Tyres
The Volta Zero will feature Bridgestone's R-Steer tyres in the front and rear. They feature a ribbed tread pattern and distinct steer pattern that reduce noise and offer "optimum performance for high-torque full-electric vehicles," the company says. Because the Volta Zero because is intended to work in urban environments day and night, the reduced noise output is key for meeting even "the most stringent noise pollution regulations," Bridgestone adds.
Making A CASE
"The transportation industry is in rapid transformation and vehicles are becoming more and more CASE—connected, autonomous, shared, and electric. We are proud to partner with Volta Trucks, an exciting new manufacturer of electric vehicles, as their demonstrator fleet of the Volta Zero hits the road for the first time," says Andrea Manenti, vice president, north region, for Bridgestone. "As a business, Bridgestone is committed to working with key partners in contributing to the future of mobility and creating new value for society. The work that we're doing alongside Volta Trucks is exactly that."
Find Your Next Vehicle
You will find a large selection of new and used trucks for sale on Truck Locator, including box trucks, curtainsiders, flatbeds, tippers, and more.