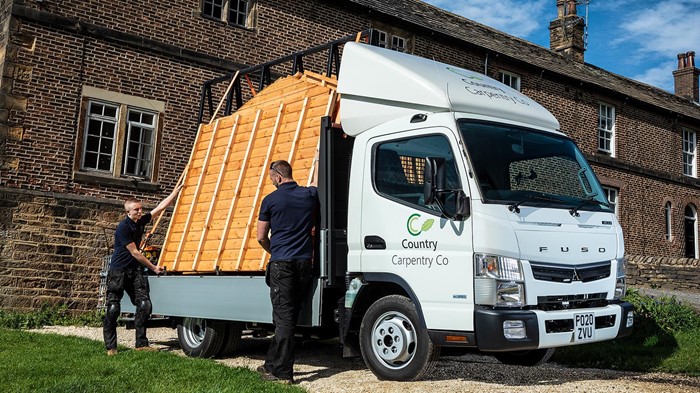 ---
Leeds-based craftsmen of bespoke garden buildings Country Carpentry needed a more robust vehicle to handle the tall timber panels the crew often carries. Thanks to its selection of a pre-built, 3.5-tonne FUSO Canter 3C13 dropsider, the bespoke garden shed builder now has a light truck that provides the strength and durability required for rugged construction duties.
"The Canter is a proper truck, with a far more robust design and higher standard of build quality," says Director Aidan Jackson. "By contrast, the vehicle we stood down just didn't have the toughness we need. It wasn't in the same league."
---
FUSO Canter 3C13
Country Carpentry's Canter 3C13 is a day cab powered by a high-torque 3.0-litre engine that produces 96 kilowatts (130 horsepower) and is paired with a five-speed manual gearbox. The 3C13 is also available with a dual-clutch DUONIC automated transmission, and if customers need more power from the Canter 3.5-tonne chassis, they can select the Canter 3C15, featuring a 110 kW (150 hp) version of the same turbodiesel and the DUONIC system only.
Country Carpentry also fitted the Canter 3C13 with a roof-mounted air deflector to counter the aerodynamic drag caused by the tall timber panels it frequently carries. The firm also appreciates the Canter's intelligent design. "The cab-over-engine design means that even with a 12-foot body, its overall footprint is no greater than that of our previous 3.5-tonner, which had a 10-ft. platform," notes Jackson. "The cab is far more spacious than I'd imagined, too."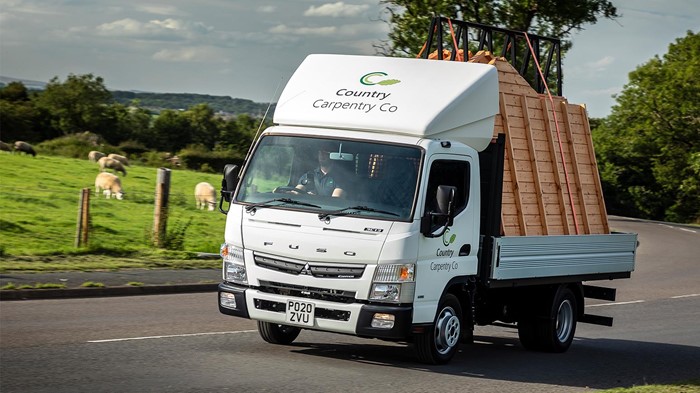 ---
Full FUSO Canter Details
The Mitsubishi FUSO Canter, distributed by Mercedes-Benz in Europe, is a versatile truck designed for a wide range of applications, including delivery, construction, landscaping, snow ploughing, and much more. Models range from 3.5 to 8.55 tonnes, with chassis load capacities ranging from 1.6 to 6 tonnes. Engine outputs range from 130 to 175 horsepower, and there are options for manual or automatic transmissions, depending on the model.
Mitsubishi FUSO offers a 4x4 version of the Canter with all-wheel drive for handling challenging terrain as well as the 100% emission-free eCanter model. The eCanter features an electric motor that produces up to 156 horsepower (116 kW) and 390 N-m (287.6 lbf-ft) of torque. It charges fully in seven hours, with a one-hour fast-charge available, and has a range of 100 kilometres (62.1 miles) with a full payload.
Find The Right FUSO
You will find a large selection of new and used FUSO trucks for sale on Truck Locator, including FUSO Canters.