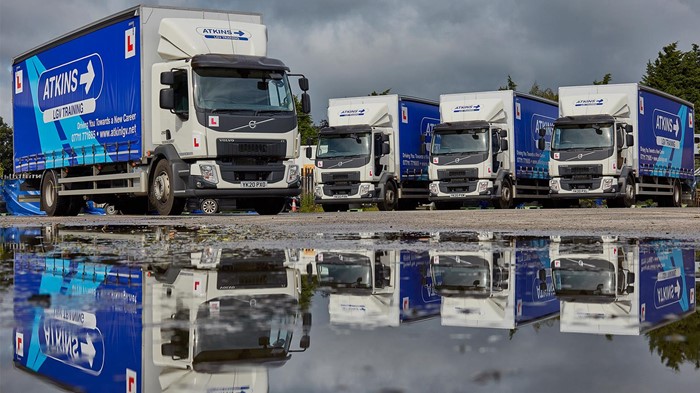 ---
Atkins LGV Training, a driving school based in Bradford, recently purchased four Volvo FL rigid trucks that will serve as teaching tools for aspiring operators earning their Category C/Class 2 licences. Each of the 18-tonne FLs features a D8K Euro 6 engine that produces 250 horsepower (186 kilowatts) and 950 newton-metres of torque, six-speed automated I-Sync gearboxes, and 26-foot (8-metre) Micra curtainside bodies. Interior features include an air-suspended seat for increased driver comfort and a kerbside passenger door window that Volvo says maximises visibility and safety.
The company estimates that its new FLs, which are backed by Volvo Gold Contracts, will cover around 40,000 kilometres per year working seven days a week. Sonia Atkin, director of Atkins LGV Training, adds that she has already received positive feedback from drivers, who "absolutely love taking them out." That's good news for a company that had to close due to COVID-19 restrictions. "We're hoping these new trucks will give us a real boost as we get back on our feet," she says.
---


"The Very Best Trucks"
"This is the first time we have bought our own brand-new trucks," Atkin says. "In the past, we have leased our vehicles or bought used vehicles. But having looked at the finances and considered all our options, we decided we wanted to add these new Volvos to the fleet. We opted for Volvo over the other manufacturers as they are a well-respected brand, and one drivers aspire to get behind the wheel of. It's hard to beat them in terms of value for money, reliability, service, and fuel efficiency. This is a big investment for us, but we are sure it will help the company in the long run. We want to give our customers the very best trucks to learn in."
More Volvo FL Details
The FL, dubbed "The Compact City Slicker" by Volvo, is available with a day, short sleeper, or crew cab in a 4x2 or 4x4 axle configuration with wheelbases ranging from 3,250 to 6,800 millimetres and gross vehicle weights (GVW) of 10 to 18 t. Engine options include D5Ks and D8Ks that produce between 210 and 280 hp (157 and 209 kW) and from 800 to 1,050 N-m of torque. There are six-speed manual, automated, and fully automatic transmissions available as well as several power take-off (PTO) options.
---
There is an all-electric version of the FL as well, which has a maximum range of up to 300 km with options for electric motors that produce between 40 and 100 kW (54 and 134 hp) and from 130 to 530 N-m of torque. In addition to the standard chassis cab, Volvo offers a factory-built sweeper version of the FL with a day cab and GVW of 12 or 16 t.
Find The Right Volvo
You will find hundreds of new and used Volvo trucks for sale on Truck Locator, including a large selection of FLs.