---
James Burrell, a builders' merchant based in Gateshead with 10 branches across the UK, operates a fleet of 36 trucks, most from Mercedes-Benz, including several Arocs models. Since purchasing its first new-generation Arocs in October, the company has gone on to add four additional vehicles with the same specs and has six more currently on order. Most of James Burrell's trucks are Mercedes-Benz 26-tonners with Dependable Bodies dropside bodywork and Hiab cranes. They primarily haul building materials, and the fleet as a whole can transport north of 1,000 t of material per day.
Each Arocs 2532 L features a ClassicSpace S-cab with a MirrorCam system that replaces traditional mirrors with cameras and A-pillar-mounted displays for improved visibility and reduced blind spots. The interior features Mercedes-Benz's Multimedia Cockpit, which has dual screens in place of traditional switchgear and a 12-inch instrument panel. The trucks are powered by 7.7-litre 320-horsepower (239-kilowatt) engines. They also come standard with Active Brake Assist 5 emergency braking, which uses cameras and radar to detect pedestrians while traveling at 50 km/h or below and automatically apply brakes if necessary.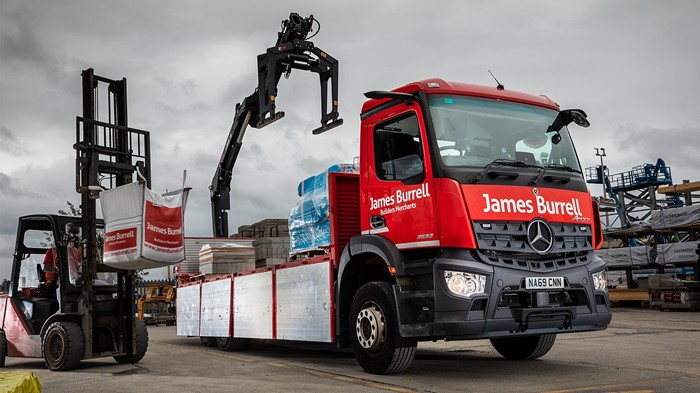 ---


Innovative, Competitively Priced & Efficient
"Mercedes-Benz has consistently accounted for the majority of our vehicles for years," says James Burrell Assistant Transport Manager Graham Johnston. "The manufacturer has always led the way in terms of innovation, while its products have traditionally been competitively priced and great all-rounders. The new trucks are certainly pulling out some very good mpg figures. It's difficult to be precise because so many variables come into play. Obviously, routes and loads differ, while the cranes are driven by the engine PTO so also consume fuel when they're working. But at 10 mpg our latest Arocs look to be between 1.2 and 2 mpg ahead of the fleet average, which is very encouraging."
More Mercedes-Benz Arocs Details
The Mercedes-Benz Arocs is available in two variants: the standard Arocs, which supports GCWs (gross combination weights) of between 18 and 48 tonnes and the Arocs SLT, which supports a GCW of up to 250 tonnes. Both models share the same cab specifications, including the ClassicSpace S-cab, ClassicSpace and CompactSpace M-cabs, and ClassicSpace, StreamSpace, and BigSpace L-cabs.
The six-cylinder in-line engine options range from 235 to 617 hp (175 to 460 kW), consisting of four displacement classes (7.7, 10.7, 12.8, and 15.6 litres) and 18 output levels. The high-torque design provides anywhere from 1,000 to 3,000 newton-metres of torque, and the broad range helps to reduce shift operations, which in turn saves wear on the clutch and transmission.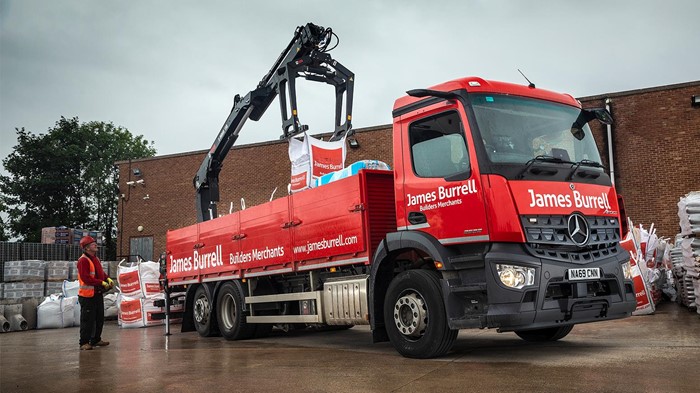 ---


Find The Right Mercedes-Benz Truck
You will find hundreds of new and used Mercedes-Benz trucks and vans for sale on Truck Locator, including a large selection of Arocs, Actros, Econic, and Sprinter models.