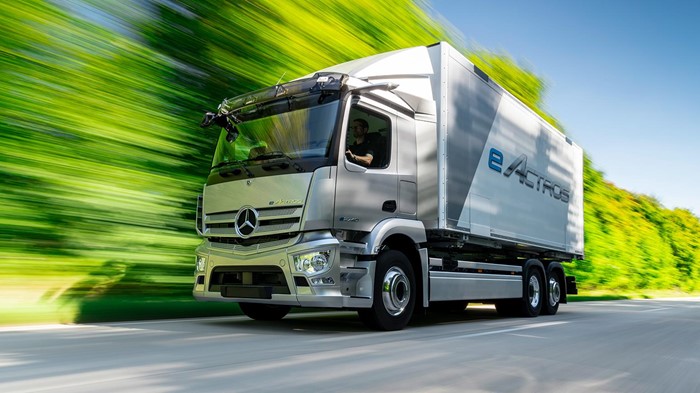 ---
Mercedes-Benz Trucks announced that the Wörth plant in Germany is due to start series production of the battery-electric eActros in 2021. Mercedes-Benz also announced the Wörth plant will begin series production of the eEconic, an electric drive truck designed specifically for municipal use, in 2022.
"At the site, preparations are in full swing to get our production ready for the demands associated with electric drive systems," says Matthias Jurytko, head of the Mercedes-Benz plant in Wörth. "For example, we are currently training our future specialists in the field of high-voltage systems—a fundamental area of expertise as far as the assembly of automotive batteries and the construction of electric trucks is concerned."
A Brief History Of The eActros
The eActros concept was first presented at IAA Commercial Vehicle show in 2016, and by 2018, Mercedes-Benz premiered a prototype eActros for use in intensive practical trials with customers. The eActros vehicles in customer tests were a collaboration among Mercedes-Benz plants in Wörth, Mannheim, and Stuttgart. Based on the findings of those tests, Mercedes-Benz further developed the eActros with key features said to be making their way into the series production vehicle. The prototype offered a realistic range of 200 kilometres (124.2 miles), regardless of load, route, or topography, and drivers were impressed by the torque across the entire speed range, as well as the smooth driving experience.
---


Initial Series Production Notes
Although Mercedes-Benz provided no specific details, the series production eActros is said to be significantly superior to the existing prototype, including range, drive power, and safety. Payload on the eActros will be on par with the conventional Actros. At launch, Mercedes-Benz plans to offer the eActros in two- and three-axle models. The eActros will also integrate with Daimler Truck's ecosystem, including tools for route analysis, checking for possible subsidies, support with operational fleet integration, and formulating suitable solutions for charging infrastructure.
CO2-Neutral
Daimler Trucks & Buses plans for all its German and European plants to be supplied by CO₂-neutral energy by 2022. In concrete terms, says Mercedes-Benz, this means that the electrical energy purchased by the existing truck and bus factories will only be received from renewable sources. The Wörth plant is among those that will shift progressively to green production, and around 2022, the battery-electric Mercedes-Benz eEconic will also roll of the Wörth plant production line. Because the eActros provides the technical basis for the eEconic, Mercedes-Benz believes the Wörth plant can seamlessly extend the series production to the eEconic.
Find Your Mercedes-Benz Truck
You will find hundreds of used Mercedes-Benz trucks for sale every day on Truck Locator, including a large selection of Actros models.