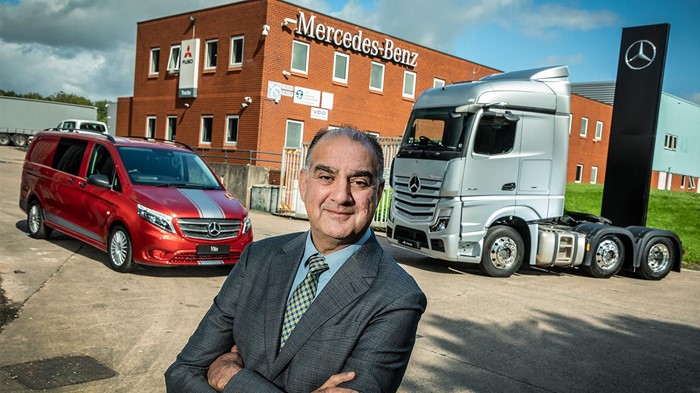 ---
Industry veteran Sid Sadique recently acquired much of Roanza Truck & Van to establish new Mercedes-Benz dealer eStar Truck & Van, saving around 340 jobs in the process. The company has several locations across the UK from which it will sell Mercedes-Benz trucks and vans and offer aftersales support. Sadique is no stranger to Mercedes-Benz trucks, having been a customer for more than 30 years. He also is a chairman and shareholder of Mercedes dealer Sparshatt Truck & Van, which he purchased with Steve and Paul Rooney in 2018.
"As a Mercedes-Benz Dealer we can provide our customers with everything from a small Citan van to a 44-tonne tractor unit, and are just as well placed to serve the sole trader with a single vehicle, as we are the major logistics fleet operator," says Sadique. "No other manufacturer can lay claim to the same breadth of product and services."
Electric, Zero-Emission Vehicles
Sadique has extensive experience with electric vehicles, and established Electra Commercial Vehicles in 2017. He will bring his passion for zero-emission trucks and vans to eStar, where he plans to create an eEducation centre that highlights the benefits of Mercedes-Benz eVito and eSprinter vans and FUSO eCanter trucks as well as Electra vehicles based on the Mercedes-Benz's Econic platform. "We're determined to take a lead and support operators as they make the transition to electric power," Sadique says.
---


"Proven Track Record"
"We are delighted that Sid has chosen to seize this new opportunity to represent our brand," says Wolfgang Theissen, managing director of Mercedes-Benz Trucks. "He has a proven track record of success in the commercial vehicle business and his investment has ensured our continued representation in this busy part of the country."
Find The Right Truck
You will find a large selection of new and used Mercedes-Benz trucks and vans and Mitsubishi FUSO vehicles for sale on Truck Paper.