---
Hyundai will debut its new XCIENT Fuel Cell truck, which the company says is the world's first mass-produced heavy-duty fuel cell-powered truck, in a digital event on October 14th. The 36-tonne gross combination weight XCIENT has a range of approximately 400 kilometres while pulling a loaded trailer.
The digital launch will take place at midday (AEDT) on Hyundai Motors' channel on YouTube and will also include a discussion of the company's roadmap for fuel cell commercial vehicles going forward.
Ambitious Plans
Hyundai has just delivered seven out of a planned 50 XCIENT Fuel Cell trucks to pay-per-use lease customers in Switzerland. The manufacturer hopes to field 2,000 fuel cell commercial vehicles per year starting in 2021.
"The delivery of XCIENT Fuel Cell starts a new chapter not only for Hyundai's hydrogen push, but also the global community's use of hydrogen as a clean energy source," says Hyundai Motor Executive Vice President In Cheol Lee. "With successful delivery of the first XCIENT Fuel Cell trucks, we proudly announce our plan to expand beyond Europe to North America and China where we are already making great progress."
A year ago, Hyundai unveiled its HDC-6 NEPTUNE Concept Class 8 fuel cell truck at the North American Commercial Vehicle (NACV) Show. It also plans to field a fuel cell-powered 6x4 tractor option for the region. Hyundai's target for the North American market is 12,000 fuel cell units on the road by 2030, but that's a drop in the bucket compared to the 1 million trucks the company intends to produce for the hydrogen-rich Chinese market. A medium-duty model is slated for 2022, to be followed by a couple of heavy trucks (including one specially designed for Chinese preferences) over time. Hyundai also has fuel cell vehicle plans for Austria, Germany, the Netherlands, and Norway.
To support the new hydrogen paradigm, Hyundai has committed USD $7.7 billion toward setting up infrastructure. "Hyundai is partnering with companies to build a complete hydrogen value chain covering everything from hydrogen production and charging stations to service and maintenance," the company recently announced.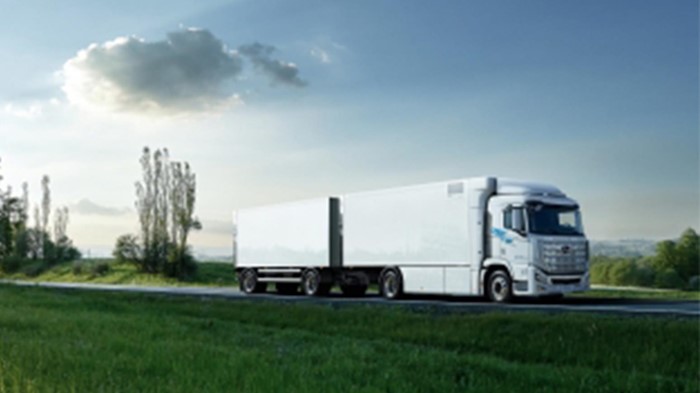 ---


Current & Future XCIENT Fuel Cells
The XCIENT Fuel Cell can pull a load comparable to a diesel truck, according to Hyundai. The 4x2 truck comes with a 32-kilogram, 350-bar hydrogen tank to feed its two 95-kilowatt fuel cells, which are considered zero-emissions power sources because their only byproducts are heated air and water vapor. It takes 8 to 20 minutes to refuel the tank with hydrogen. The truck can reach 85 km/h using an Allison ATM 4500R six-speed transmission.
For safety, Hyundai equips the XCIENT Fuel Cell with technologies such as Front Collision-avoidance Assist (FCA), Smart Cruise Control (SCC), Electronic Braking System (EBS) + Vehicle Dynamic Control (VDC), and Lane Departure Warning (LDW). The truck also supports smartphone mirroring and wireless recharging.
Future plans for the next XCIENT European models include 4x2 tractors—one being a 44-tonne unit with a 1,000-km range—and 4x2 and 6x2 cargo trucks. An e-axle and new 200-kW fuel cells are also in the works.