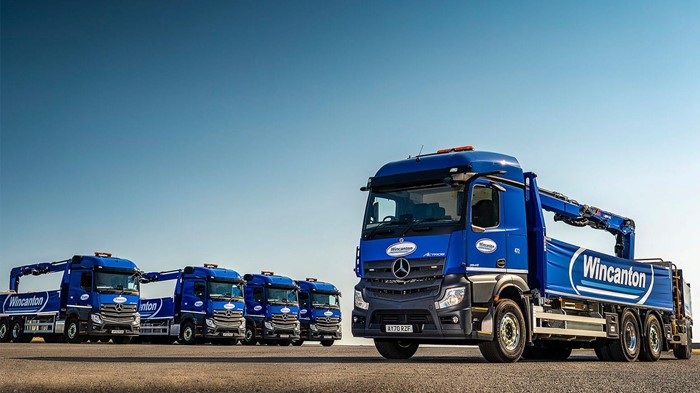 ---
Leading third-party logistics company Wincanton of Chippenham, Wiltshire, is putting the first 14 of 20 Mercedes-Benz fifth-generation Actros trucks on order to work delivering building materials across Britain. The 26-tonne rigids feature a rear-equipped Hiab 145DLL-1 HiPro boom crane with 14.4-tonne lifting capacity, and are paired with drawbar trailers to total 44-tonne gross train weights.
The Actros include Mercedes-Benz's MirrorCam, technology that Wincanton Fleet Manager Martin Reeve says takes safety to a new level. "The improved visibility provided by the new cameras is an advantage, particularly when vehicles are manoeuvring on construction sites," Reeve says.
Wincanton operates a 3,500-vehicle fleet in total, including 200 trucks from 27 customer locations in Britain. The majority of those are Mercedes-Benz drawbar combinations.
---


MirrorCam & Microwaves
Wincanton received Actros 2546 L models configured with a 2.3-metre StreamSpace sleeper cab that includes a microwave oven and fridge. Those appliances come in handy for Wincanton's drivers who typically spend four nights weekly in the cabs. A 10.7-litre, six-cylinder Mercedes-Benz engine supplies the trucks with 340 kilowatts (460 horsepower) of maximum power. Power-on-demand technology, meanwhile, enhances fuel consumption by enabling the engine to respond directly to the Hiab crane's power take-off (PTO) requirements such that when the crane isn't lifting, the engine runs idle.
MirrorCam, a standard feature on fifth-generation Actros trucks, relays images from cameras to in-cab screens fitted in the A pillars. Mercedes-Benz notes that MirrorCam is especially beneficial on worksites where dust clouds and similar conditions can severely restrict a driver's view from the conventional exterior mirrors. Elsewhere, Wincanton opted to equip the trucks and trailers with safer and lighter honeycomb composite plastic rather than traditional keruing hardwood flooring.
---


The Fifth-Gen Actros
The fifth-generation Actros, winner of the International Truck of the Year 2020 award, is built for long-distance haulage and heavy-duty distribution. The 18- to 33-tonne truck is available as a rigid or tractor unit with axle configurations ranging from 4x2 to 6x4. There are 17 cab variants in two widths, with roof shape options such as GigaSpace, BigSpace, StreamSpace, ClassicSpace, and CompactSpace. Euro VI engine outputs range from 238 to 625 horsepower (175 to 460 kilowatts) and from 1,000 to 3,000 newton-metres (738 to 2,213 pounds-foot) of max torque.
The Actros' Multimedia Cockpit combines ergonomic and connectivity refinements to allow operators to drive and live in comfort. Standard safety features include a driver side airbag and the Mercedes-Benz Safety Package, which includes Active Brake Assist with Proximity Control Assist and pedestrian recognition technology.
Find Your Mercedes-Benz Actros
You'll find a huge selection of new and used Mercedes-Benz trucks for sale every day on Truck Locator, including models like the Actros.