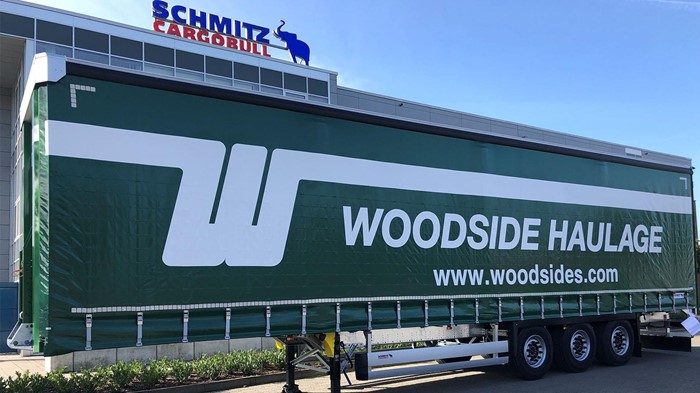 ---
Woodside Haulage, a full load transport specialist serving customers across the United Kingdom and Ireland, recently added 20 new fixed-roof Schmitz Cargobull curtainside trailers to its fleet, bringing its complement of Schmitz Cargobull curtainsiders to 40. Its parent company, Woodside Logistics Group, has depots in Ballynure, Belfast, Dublin, Liverpool, and Preston.
The company chose to stick with the brand because of its reliable build quality and safety. The curtainsiders, for instance, feature galvanised steel and aluminium chassis with 10-year warranties that cover rust-through. They go through an extensive testing process to make sure they can stand up to long-term transport demands, "including using hydropulsers to simulate distances of 1 million kilometres across different road types," Schmitz Cargobull says. To make them safer, Woodside also opted for extra lights and reversing sensors.
"Second To None"
"We ship goods on ferries and our trailers are worked rigorously and extensively on an intensive schedule, so we need absolute confidence they are of the highest quality," says Woodside Haulage MD Mark Woodside. "The Schmitz Cargobull build quality really is second to none. The fully galvanised chassis gives full protection against corrosion and we know they will maintain a good cosmetic appearance throughout their entire life. We have trailers that remain in service for up to 15 years and we are confident this will be the case with these latest additions."
More Details
Schmitz Cargobull's S.CS Fixed Roof curtain side trailer meets UK road standards, with a height of under 4,000 millimetres and total weight of less than 44 tonnes, while also having a maximum loading height of 3,100 mm and a large payload capacity of 32 t. The MODULOS chassis consists of an aluminium front wall with steel corner supports and an aluminium roof.
The tarpaulin has two sliding posts and 18 buckles, and Schmitz Cargobull offers multiple load-securing options, including restraint straps and stanchion pockets. They also meet the EN 12642 Code XL standard for load securing and can be used to transport beverages in one or two layers. Other features include tyre pressure monitoring and re-pressurisation, a brake pad wear indicator, and an electronic ramp approach aid.
Find The Right Curtainsider
You will find a big selection of new and used curtainside trailers for sale on Truck Locator.