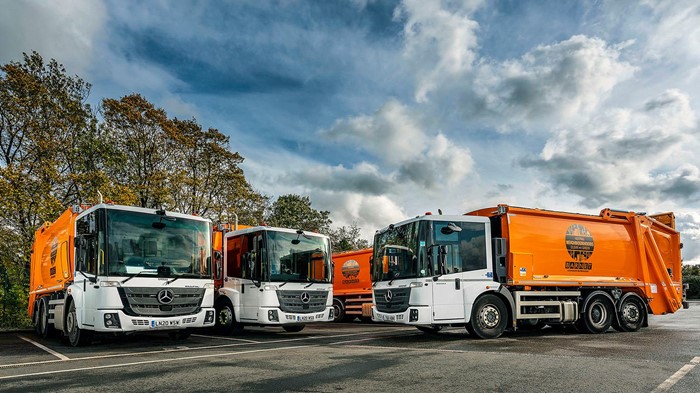 ---
Barnet Council recently added several new Mercedes-Benz Econic refuse trucks to its more than 50-vehicle fleet, which was once dominated by another marque. The council started with four such models less than two years ago and came away impressed, which convinced it to add 12 more Econics soon after. This most recent order is for 18 total vehicles, some of which have already been delivered.
Each of the Econic 2630Ls features a 7.7-litre, 295-horsepower (220-kilowatt) engine, six-speed automatic transmission that Mercedes-Benz says is "purpose-designed by Allison for stop-start applications," and rear-steer axles. Their home will be Barnet Council's Oakleigh Street Scene Services depot. They are all covered by Mercedes-Benz Complete service contracts as well, with support from Welham Green-based S&B Commercials.
---


Safety In Spades
Enhanced visibility is a major selling point of the Mercedes-Benz Econic with its panoramic windscreen, glazed folding side door, and a low seating position that helps drivers be more aware of their surroundings, which is especially important in urban environments teaming with pedestrians and cyclists. Complementing those features is a 360-degree Sentinel camera system for further coverage.
Another benefit of the Econic is the suite of standard safety features, which includes Active Brake Assist 4 with emergency braking, which can now fully stop the vehicle, and Sideguard Assist. Sideguard Assist uses radar sensors on the passenger side of the truck to detect other vehicles as well as pedestrians and cyclists. It then delivers audio and visual warnings to ensure the driver is aware of them.
---


No More Unplanned Downtime
"Unplanned vehicle downtime has been an issue in the past, but on the basis of previous experience I've gained with other London councils that run Econics I'm optimistic that we're now putting those problems behind us," says Barnet Council Fleet Manager Bob Smith. "Mercedes-Benz has put a lot of thought into the truck's design. It's very robust and offers the reliability that's all-important for an intensive seven-days-a-week operation like our own. The drivers have really taken to it, too. Some were reluctant to change from their previous vehicles but having tried the rear-steer Econic they wouldn't want to go back now. Everything invariably works as it should, so as soon as they've done their checks they're straight out on their rounds."
Find The Right Mercedes-Benz Truck
You will find hundreds of new and used Mercedes-Benz trucks for sale on Truck Locator, including a large selection of Econics, as well as Actros, Arocs, Atego, and Axor models.
Source: Mercedes-Benz