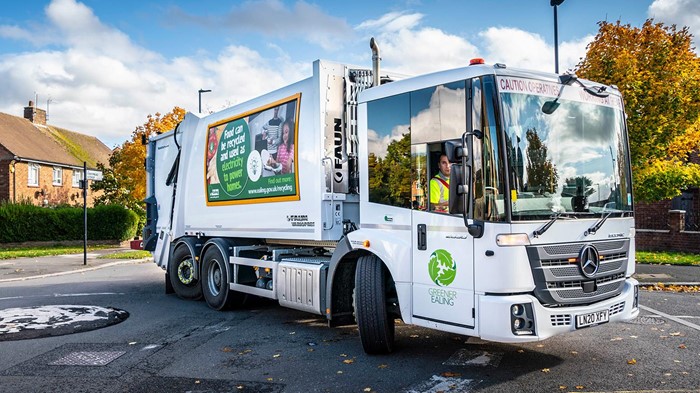 ---
Following a strategic review by the Ealing Council, collections of domestic, trade, and green waste were recently moved from a third-party contractor to a local authority trading company called Greener Ealing that can supplement its income by winning commercial contracts. And with a fleet of Mercedes-Benz Econic refuse trucks either already on the job or soon to be delivered, Greener Ealing hopes to make a seamless transition whilst undertaking new functions like street cleaning, grass cutting, and grounds maintenance.
Five-Star Fleet
The new Econic 2630 L trucks have 26-tonne 6x2 chassis with rear-steer axles for better manoeuvrability and are fitted with FAUN Zoeller Variopress compaction bodies and bin lifts. Three of the trucks also boast dual-compartment Selectapress bodies with a 70:30 split; these trucks should be delivered soon. Greener Ealing specified the Econics to support the maximum five stars from Transport for London's Direct Vision scheme. Safety is enhanced for vulnerable road users through a 360-degree camera system and Mercedes-Benz Trucks' Active Brake Assist 4 emergency braking technology. Programmed to recognise other vehicles at higher speeds, as well as pedestrians when moving more slowly, the braking system is capable of bringing the truck to a complete stop.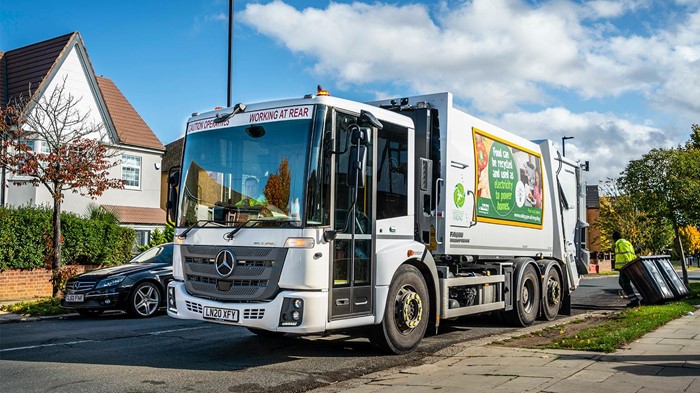 ---


Specs To Know
The versatile Econic platform is highly configurable, with four axle variants ranging from 18 to 32 t in gross weight. It comes in low and high cab versions with wheelbases of 3,450 to 5,700 millimetres. Either the leading or the trailing axles can be steerable. Each axle has a full air suspension that is adjustable for height.
Mercedes-Benz outfits the Econic line with 7.7-litre, inline six-cylinder engines. Diesel-burning models range from 272 to 354 hp (202 to 264 kW). An alternative that runs on natural gas or biogas produces 302 hp (225 kW) and comes with a low 80 dB(A) noise rating. Mercedes offers the Econic with a semi-automated PowerShift transmission with 12 forward and four reverse gears, or with an Allison automatic transmission.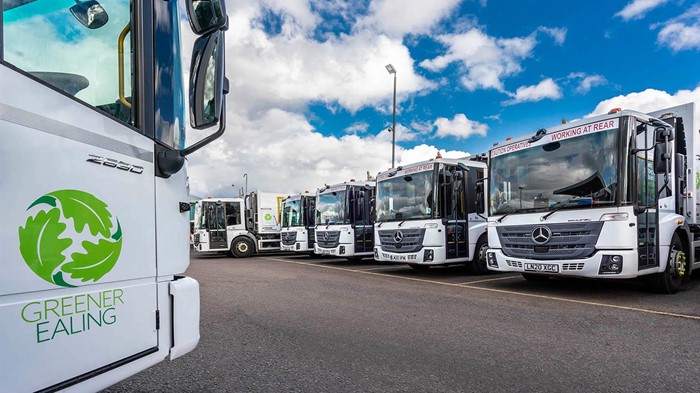 ---
Thanks to its deep, panoramic windshield and full-height, glazed folding side door, the Econic offers a clear view of traffic conditions. These factors coupled with the low seating position allow drivers to make direct eye contact with cyclists and pedestrians at junctions or in traffic queues to ensure maximum safety.
Find The Right Mercedes-Benz Truck
You will find hundreds of new and used Mercedes-Benz trucks for sale every day on Truck Locator, including a large selection of Econics as well as Actros, Atego, and Axor models.
Source: Mercedes-Benz