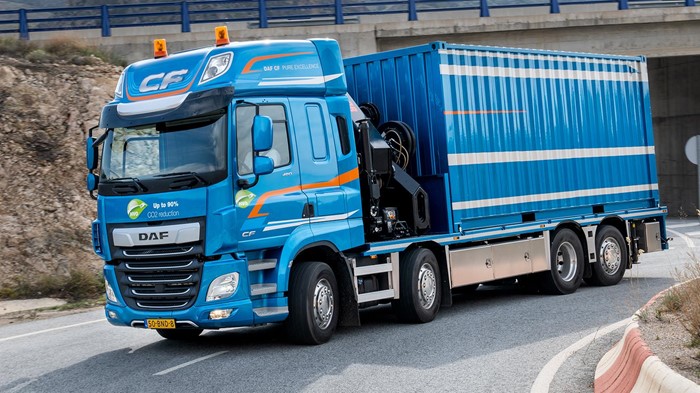 ---
Selwood, a pump manufacturer and plant hire company based in Hampshire, recently added six new DAF CF trucks to its fleet, which consists of 171 large commercial vehicles (LCVs), 55 large goods vehicles (LGVs), and 127 cars. All but one of the new CFs are 26-tonne (28.7-U.S.-ton) 6x2 rear-steer trucks, three of which feature Hiab cranes. The standalone is an 8x2 rear-steer FAX configuration with a 410 horsepower (306-kilowatt) engine and a flatbed body.
All of the CFs in this order have Euro 6 engines, which is important as Selwood transitions its fleet to ensure it can meet standards in Clean Air Zones across the UK. In fact, 95% of its trucks and 70% of its vans have Euro 6 engines, and 75% of its cars are either plug-in hybrids or fully electric.
"Impressed With The DAF Product"
"We're seeing better productivity returns from the eight-wheelers, the higher carrying capacity coupled with excellent manoeuvrability mean the DAF 'FAX' setup is ideal for our operation," says Paul Green, head of transport at Selwood. "Drivers are really enthusiastic, too, the 370bhp engines on the 26-tonners represent a boost in power over our previous truck-brand, which they appreciate. We're impressed with the DAF product and the aftersales support, hence the increasing presence on our fleet. We're especially pleased with the back-up from Lancashire DAF. They're always on hand to help with any issues."
More DAF CF Details
The DAF CF is a distribution specialist that's ideal for everything from local to international operations. Engine options include the PACCAR PX-7, MX-11, and MX-13, which produce from 234 to 530 hp (174 to 395 kW) and from 900 to 2,600 newton-metres (664 to 1,918 pounds-foot) of torque. There's the choice of either a 12- or 16-speed TraXon automated transmission featuring Eco Performance and Eco Fuel modes for prioritising performance or fuel efficiency, depending on the application.
Find The Right DAF Truck
You will find hundreds of new and news DAF trucks for sale on Truck Locator, including a large selection of CFs, LFs, and XFs.
Source: DAF