---
MAN and award-winning vehicle bodybuilder Bevan Group have teamed up on a fleet of eight 3.5-tonne specially designed logistics vehicles built on MAN's TGE chassis that will be deployed by charity-based St John Ambulance. SJA will initially use the front-wheel drive vans to deliver medical equipment to satellite sites for restocking other ambulances. Eventually, the vans will support SJA volunteer doctors, nurses, and other members who provide first aid and other medical services across England. MAN plans to supply additional vans to SJA in coming months as the latter continues updating its fleet.
Supporting Medical Services
The West Midlands-based Bevan Group customised SJA's TGE-based trucks by bonding their plastic boxes directly onto the chassis, enabling it to create a drawbridge-style full-closure rear door that doubles as a ramp. Bevan Group's overall design helped it exceed the 1-tonne payload goal it originally set for the vans. Featuring 140-horsepower engines, eight-speed automatic transmissions, axle load weighing systems, and air conditioning, the trucks can haul everything required to build and equip mobile medical centres. They'll also transport defibrillators, oxygen cylinders, stretchers, generators, and other onboard inventory. SJA formerly needed two or three panel vans or 7.5-tonne trucks to accomplish the same.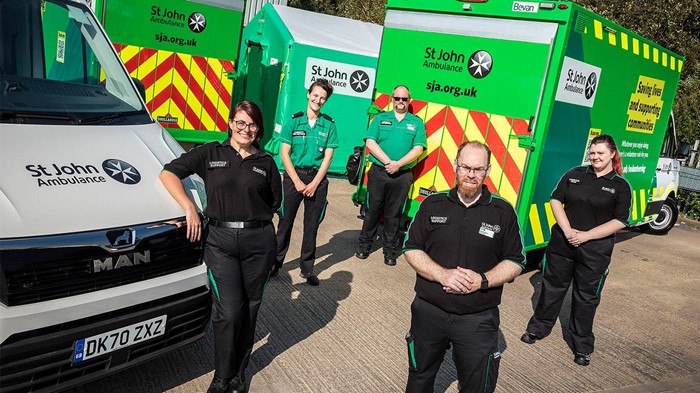 ---
Bevan Group—which manufactures 60-plus vehicle bodies weekly and provides aftercare, graphics, response, parts, and other services—is a two-time winner of the Bodybuilder of the Year prize from the Commercial Motor Awards. Dan George, MAN TGE international and national key account manager, says MAN selected Bevan Group knowing it could produce a body able to withstand an arduous 10-year life cycle.
"What's more, [Bevan's] market-leading five-year warranty confirms that Bevan Group is prepared to put its money where its mouth is when it comes to standing by the quality and consistency of its work," George says.
Find Your MAN Truck
You'll find a big selection of new and used vans and MAN trucks for sale every day on this site.
Source: MAN