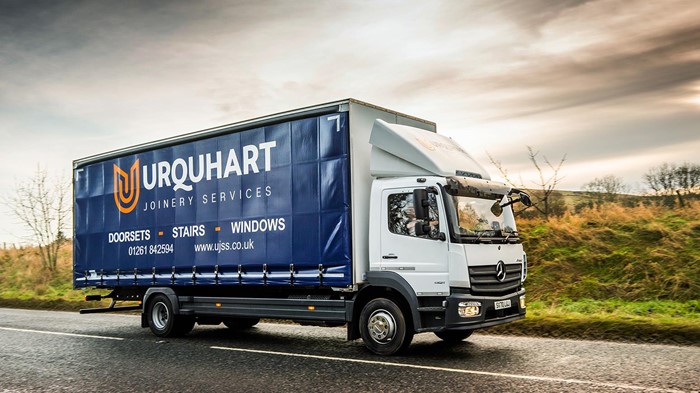 ---
Urquhart Joinery Services, a window, door, and stairs specialist based in Aberdeenshire, recently upgraded from a seven-year-old Mercedes-Benz truck to a brand new Atego 1321L, supplied by BLS Truck & Van of Aberdeen. The company's older vehicle, also an Atego, was a 12-tonner (13.2 U.S. tons), but the new one is a 13.5-t (14.9-U.S.-t) truck with a ClassicSpace S-cab and a curtainside body from Wakefield-based Micra Truck Bodies. It's also powered by a 208-horsepower (155-kilowatt) 5.1-litre engine. The larger Atego range features models with gross vehicle weights of between 7.5 and 16 t (8.3 and 17.6 U.S. t).
Keeping Up With Demand
In addition to the new Atego, which is covered by a seven-year Mercedes-Benz Complete Service Contract, Urquhart Joinery Services owns seven vans from the marque. All of the vehicles are used to deliver various timber products up and down Scotland from the Shetland Islands to the Central Belt.
Despite the COVID-19 pandemic, owner David Urquhart says his business has "managed to maintain a significant volume of work." Its previous Atego is a testament to how busy the company has been, covering more than 300,000 kilometres (186,400 miles) over the course of its life. Despite its age and mileage, Urquhart says the truck "still looked smart and had never let us down."
---


Atego Expected To "Exceed Expectations"
"The engine has plenty of power for hilly roads, while the cab is well designed and exceptionally comfortable, not least because we specified air suspension on the rear axle – this makes for a smoother, more relaxing ride, as well as helping to protect our products from transit damage," says Urquhart. "When we choose a new truck, our focus is on the total cost of operation over a seven-year life, and our experience confirms that the Atego is a clear winner. We've tried other makes of truck in the past, but none came close in terms of quality. With the expert support of BLS & Van, I've every confidence that like its predecessor our latest Mercedes-Benz will exceed expectations."
Find Your Next Mercedes-Benz Vehicle
You will find hundreds of new and used Mercedes-Benz trucks and vans for sale on Truck Locator, including Ategos as well as Actros, Econic, and Sprinter models, among others.
Source: Mercedes-Benz