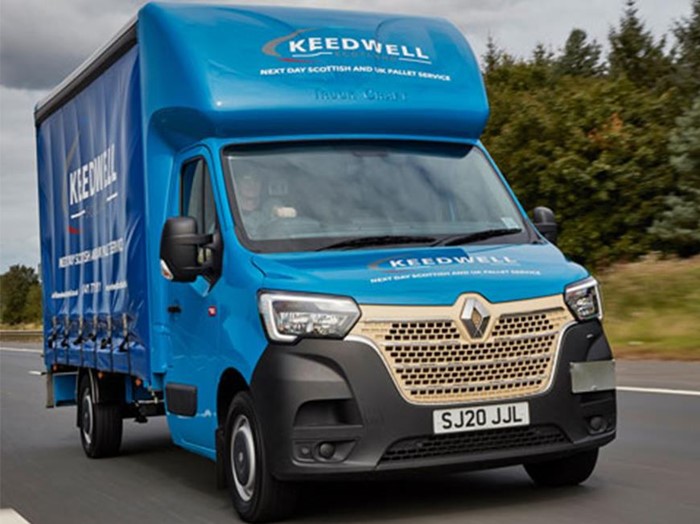 ---
Renault Truck's Master Red EDITON trucks are light commercial vehicles equipped with a variety exclusive Renault options as standard to improve efficiency and safety. And when Keedwell Scotland was looking a new vehicle to haul pallet collections and deliveries across Scotland, the Master Red EDITION filled the bill.
"The main reason for purchasing the Master Red EDITION is its high load capacity in combination with the tail lift," says Keedwell Scotland Director John McLellan. "Fitting tail lifts usually reduces the vehicle's carrying capacity but the Red EDITION can take 800 kilograms whilst competitor vehicles only achieve 500 kg."
A Professional Look
Projecting a professional image was also high on the list of Keedwell Scotland's requirements. "In my opinion it's one of the best-looking vehicles on the road," McLellan says. "It is perfect for our business application and the new design allows our drivers to work more efficiently and in greater safety. This, combined with the impressive load capacity, sealed the deal."
The exclusive Master Red EDITION boasts chrome radiator grille and high-power headlights with LED light signature, and safety is enhanced by the reversing sensor and camera.
Master Red EDITION Options
Available in panel van, minibus chassis cab, and platform cab configurations, the Renault Trucks Master Red EDITION is a versatile platform. Keedwell Scotland selected a Chassis Cabs L3 145 BHP with a six-speed gearbox. The Master Red EDITION is equipped with a 150 horsepower Euro 6 Step d-temp engine as standard, and six other Euro 6 and Euro 6 Step D engines, including the 100% electric Z.E. version, are also available.
Find The Right Renault
You will find large selection of new and used Renault Trucks vehicles for sale every day on Truck Locator, including a number of Renault vans.
Source: Renault Trucks