---
Cook, a frozen ready meal distributor based in Sittingbourne, recently added a new Mercedes-Benz Atego 1521L refrigerated truck to its fleet on a contract hire agreement. Cook spec'd the truck with a ClassicSpace S-cab, a 5.1-litre 208-horsepower (155-kilowatt) engine, and a rear air suspension. The new Atego also has a Solomon Commercials insulated body, with two rear doors and a side door, coupled with a FRIGOBLOCK FK Series refrigeration unit that can maintain temperatures of -20 degrees Celsius (-4 degrees Fahrenheit).
The larger Atego range includes models with gross vehicle weights of between 7.5 and 16 tonnes (8.3 and 17.6 U.S. tons) with four cab options to choose from. Engines range from 154 to 295 HP (115 to 220 kW) and transmission options include six-, eight-, or nine-speed gearboxes as well as a PowerShift 3 automated alternative.
Meeting Demand
Cook will soon open a new £16 million kitchen facility in order to keep up with the demand at its nearly 100 retail stores. You'll also find its products at fuel stations, farm shops, and other locations. The new Atego will be based primarily at the company's distribution centre in Gillingham, replacing a previous Atego rental and joining forces with eight Mercedes-Benz trucks, including an Antos, various Axor models, and nine Sprinter vans. All told, Cook's fleet has grown from nine vans to 50 total vehicles in one year due to pandemic-related demand.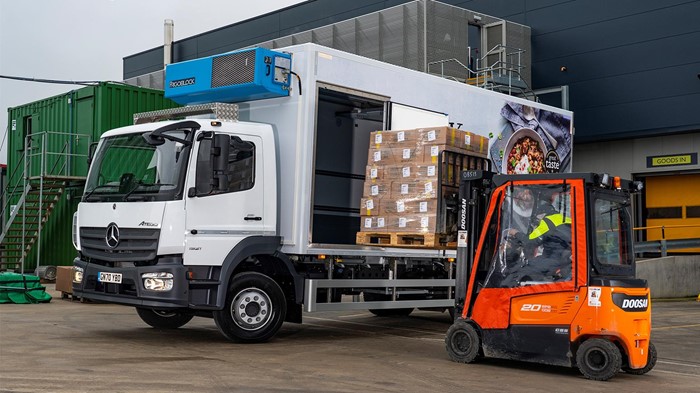 ---


"A Top-Tier Product"
"We took on some short-term rentals initially," says Cook Logistics Manage Richard Lee. "As soon as we were in a position to do the job properly, though, we contract-hired an 18-tonne Axor from Sparshatt. It has supplied all of our trucks ever since. Reliability is the single most important factor we look for in a vehicle. Mercedes-Benz builds a top-tier product, one that combines engineering quality with competitive running costs and market-leading safety features."
Find The Right Mercedes-Benz Truck
You will find hundreds of new and used Mercedes-Benz trucks and vans for sale on Truck Locator, including a large selection of Ategos as well as Axor and Antos models and a number of Sprinter vans.
Source: Mercedes-Benz