---
R&S Recovery Services, a family firm based in High Wycombe, serves South-East England with depots in Bicester, Guildford, Maidenhead, and West London. Vehicle recovery requires trucks that are up to the task. The company's fleet is populated with heavy wreckers capable of recovering 44-tonne tractor-trailer combinations or large coaches and vans, and that are equipped with tools and parts to carry out repairs at the roadside. Among them is the 15-t Mercedes-Benz Atego 1530.
About the Atego
The versatile truck has a ClassicSpace L-cab large enough to accommodate five passengers with additional side windows and a seat-bunk combination that provides seating for four or can be pulled out as a bed. The Atego 1530 is powered by a 7.7-litre, six-cylinder, 220-kilowatt (300-horsepower) engine that meets Euro VI requirements and has a standard PowerShift 3 automated transmission with operationally optimised drive programs. Its 27-foot Hydraloader LA low approach tilt-and-slide body features extendable ramps to reduce the loading angle and a spectacle lift. A three-stage brake system offers up to 235 kW of power to reduce service brake wear and enhance vehicle safety and control. The Atego has a choice of six-, eight-, or nine-speed transmissions with matched rear-axle ratios. Other features include self-cancelling turn signals, a warning tone for parking brake and lights, cruise control, and "follow me home" lights.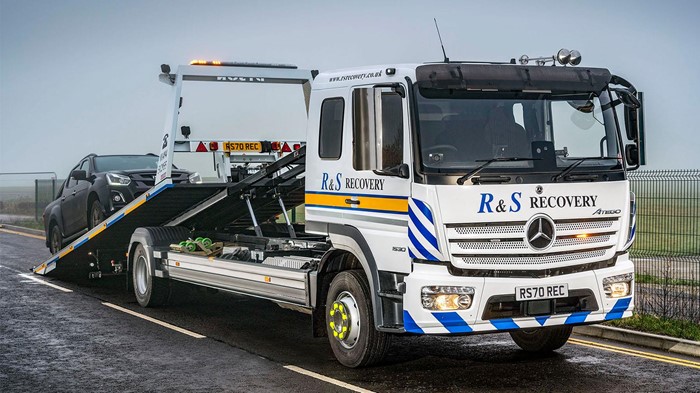 ---


"We Demand Reliability"
"We had very specific requirements when choosing this truck. It had to be able to carry a large van or two cars, as well as several passengers, but without losing the agility that comes with a compact overall length," says R&S Recovery Services General Manager Philip Leslie. "And, of course, we demand excellent reliability. The Atego is extremely well-engineered and we know from experience that Mercedes-Benz trucks are highly dependable. With a payload of 6 t, our latest can easily carry the largest vans, fully laden."
Find Mercedes-Benz Trucks
You'll find a large selection of new and used Mercedes-Benz trucks, including Ategos, for sale every day on Truck Locator.
Source: Mercedes-Benz