---
Building materials supplier Merkko recently acquired two new Mercedes-Benz Arocs to support the company's growth over the last year. The company, which serves small- to medium-sized trade customers, made the decision to remain open throughout the pandemic and picked up a lot of new customers. The firm acquired its new Arocs from Marshall Truck & Van Sales Executive Bill Kingsmill.
Specification
The 6x2 Arocs are both 2532 L models with ClassicSpace M-cabs and rear axles that lift and steer to reduce tyre wear. The trucks have 7.7-litre in-line six-cylinder engines that produce 235 kilowatts (320 horsepower) and a payload of 13.5 tonnes (14.8 U.S. tons). The trucks deliver the bulk of the bricks, blocks, cement, timber, and other materials Merkko supplies to sites within a 50-mile radius of its Oxfordshire and Berkshire depots. In choosing the Arocs, Merkko picked up an extra tonne of carrying capacity over the trucks they replace.
"I don't know how much of that weight saving is down to the chassis, how much to the body, and how much to the crane, but in truth I'm not bothered," says owner Ian Duckitt. "All that matters to me is that as specified by Bill, these vehicles offer an increase in carrying capacity of a magnitude that's already making a big difference in terms of productivity and cost control."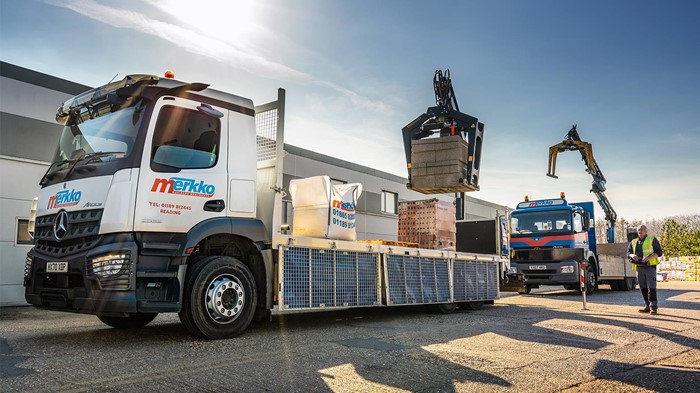 ---


About The Arocs
The newest Arocs have one immediately noticeable change from previous generations—no mirrors. The trucks instead rely on MirrorCam, a system wherein external cameras relay images to screens inside the cab, providing all-round visibility. The system also delivers increased fuel efficiency thanks to the compact camera housings, which create less aerodynamic drag than do traditional mirrors. The Arocs also have Active Brake Assist 5 emergency braking technology for enhanced pedestrian recognition and Predictive Powertrain Control. The Multimedia Cockpit replaces the conventional switchgear with twin screens. Merkko opted for the upgraded interactive version with a larger 12-inch instrument panel and satellite navigation.
Find Mercedes-Benz Trucks
You'll find hundreds of new and used Mercedes-Benz trucks for sale every day on Truck Locator, including a big selection of Arocs models.
Source: Mercedes-Benz