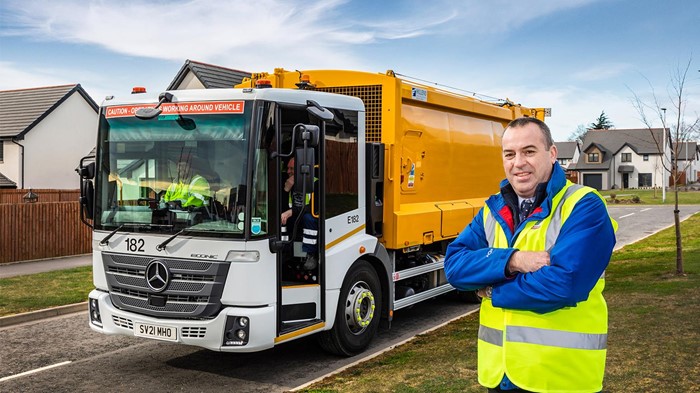 ---
Moray Council in northeastern Scotland has added four new Mercedes-Benz Econic 2630 L refuse collection vehicles to its fleet. Aberdeen-based dealer BLS Truck & Van supplied the new low-entry trucks, which are equipped with advanced accident prevention technology.
"With its low floor and deep, panoramic windscreen, the Econic has always made a major contribution to safety by affording drivers an excellent field of vision, and allowing them to make contact with vulnerable road users, particularly cyclists and pedestrians," says Vehicle Services & Compliance Manager John Pearson.
Safety First
Among the standard features of the new Econic lorries is Mercedes' Active Brake Assist 5. This emergency braking system uses both radar and a camera to detect objects ahead. It warns the driver with visual and audible alerts, but will also slow down and stop the vehicle with its hazard lights on if the driver fails to act. Active Brake Assist 5 also has a "dramatically improved response" to pedestrians crossing the vehicle's path, approaching from the front, or walking ahead, according to Mercedes.
Moray Council's Econics also came with the optional Rearguard Assist system for safety while reversing. In addition to its audiovisual warnings and automatic stopping capability, Rearguard Assist displays the distance to nearby objects on the instrument cluster.
An automatic hold function prevents the Econic from inadvertently rolling from a standstill, and its Electronic Parking Brakes are applied automatically when the engine is switched off.
---


The Mercedes-Benz Econic
Three of Moray Council's new Econic trucks are equipped with Farid Hillend Engineering Powerlink bodies and Terberg Matec bin lifts. They've been put to work collecting domestic rubbish across Moray. The fourth Econic has been fitted with a split TwinTrak body to gather mixed recyclables.
"We know from experience that the Econic is highly dependable over a 10-year working life, during which it provides excellent value for money thanks to low running costs and minimal downtime," says Pearson.
Mercedes' Econic 2630 L has a 299-horsepower (220-kilowatt), 7.7-litre, inline six-cylinder engine and a six-speed automatic Allison transmission. The truck also features rear-steer axles to reduce the size of its turning circle.
"The Econic is very popular with our operatives, too," Pearson says. "Drivers particularly appreciate its excellent all-round vision, while the vehicle also scores highly with crews for its air-conditioned comfort, ease of access, and all-round quality."
Find The Right Mercedes-Benz
Truck Locator lists a broad variety of new and used Mercedes-Benz trucks for sale, including a number of Econic models such as the 2630.
Source: Mercedes-Benz