---
International logistics provider DB Schenker recently commissioned its first UK-based all-electric FUSO eCanter truck. The 7.5-tonne (8.3-U.S.-ton) rigid features a curtainside body and 1,000-kilogram (2,205-pound) tail lift, and will play a role in DB Schenker's efforts to provide zero-emission urban deliveries. The firm has 430 land transportation branches throughout Europe. The new eCanter is based at its Bradford location, where it joins a 36-vehicle fleet of mostly Mercedes-Benz trucks. Of the fleet's five non-Mercedes-Benz trucks, four are to be replaced soon with new-generation Actros 2545 tractor units.
Playing A Significant Role
According to Mercedes-Benz, five eCanters that DB Schenker was already operating in France and Germany make it FUSO's largest electric fleet customer. The newest eCanter is one of 36 that Mercedes-Benz will eventually deliver to DB Schenker's European distribution centres.
"Not only does this vehicle offer the reliability and competitive running costs we need, but as legislation moves on and ultra-low emission zones become more widespread, as well as stricter, it can help us to future-proof our delivery operation," says DB Schenker Fleet Manager Dave Shepherd. "This vehicle is one small but important part of a much bigger picture for our business. We're keen to explore any avenue that can help to reduce the impact of our operations on the environment, and the eCanter potentially has a significant role to play."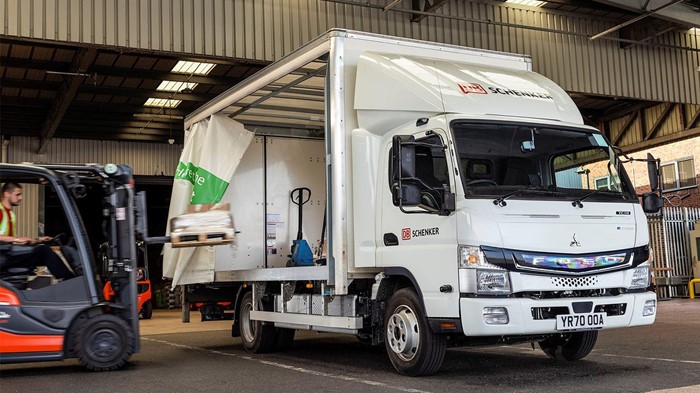 ---


Monitoring Performance
Mercedes-Benz says the eCanter is the world's first fully electric light-duty truck to enter series production and that it represents a major advance in the battle to enhance air quality in towns and cities. The truck's electric drivetrain features six 13.8-kilowatt per hour lithium-ion batteries providing 82.8 kW/h total power output, with 66 kWh being usable. The eCanter's permanent-magnet motor delivers 180 horsepower (129 kilowatts) via a single-gear transmission in the rear axle.
The eCanter has an effective operating range of more than 100 kilometres (62 miles) on one charge. Mercedes-Benz helped arrange the installation of a 22-kW charging point at DB Schenker's Bradford depot. Shepherd says early truck tests have been positive.
"Electric power is a new departure for us, so we're still working out the most effective way to use the vehicle and will be monitoring its performance very closely," Shepherd says. "The early signs are certainly promising, though. As well as the obvious environmental benefits, on the evidence of what we've seen so far, we expect it to prove highly economical to operate."
---


Find Your Mercedes-Benz Truck
You'll find a big selection of new and used FUSO and Mercedes-Benz trucks for sale every day on Truck Locator, including Actros and Canter models.
Source: Mercedes-Benz