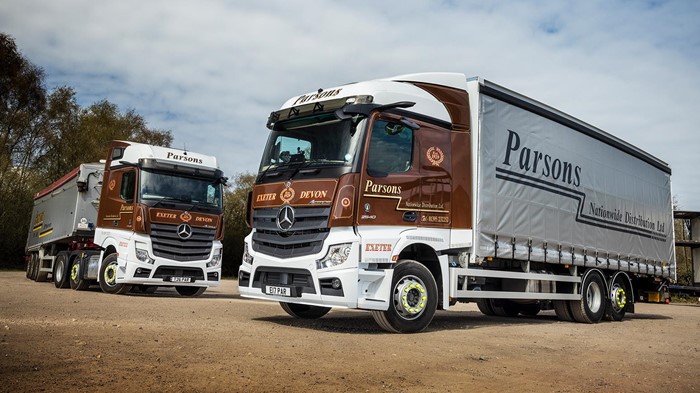 ---
Parsons Nationwide Distribution of Exeter, Devon, recently purchased its first Mercedes-Benz Actros rigid truck after being impressed with the efficiency and safety of the latest Actros tractor units in its fleet. The new 26-tonne (28.7-U.S.-ton) truck, supplied by Mercedes dealer City West Commercials, has a reinforced curtainside body and a 2-t (2.2-U.S.-t) tuckaway tail lift from TWR Commercial Bodybuilders of Cullompton.
"The Actros blows its competitors out of the water when it comes to safety and driver comfort, while it's also ahead on fuel economy," says Parsons Transport Manager Paul Collin. "After a year on the road the miles-per-gallon figures are always in the 10s and sometimes the 11s, whereas our Swedish tractors are in the 8s. This explains why we're only buying Mercedes-Benz trucks right now."
Visibility Is Key
Parsons's new Actros 2540 L model has a 2.3-metre (7.5-foot)-wide StreamSpace cab and a 394-horsepower (290-kilowatt), 10.7-litre, inline six-cylinder engine. It is equipped with a number of Mercedes technologies for safety and fuel economy.
The MirrorCam system replaces the truck's traditional side mirrors with cameras and screens. This not only eliminates the blind spots behind traditional side mirrors and A-pillars, but also improves fuel efficiency by enhancing aerodynamics.
"Our drivers have really taken to MirrorCam, to the extent that we'd now struggle to persuade those who've tried it to drive anything other than a Mercedes-Benz," Collin says. "They particularly like the way the cameras follow the back of the trailer, which make it so much easier to see what's going on when they're reversing."
Safety & Fuel Efficiency
The automated Active Brake Assist 5 system on Parsons' Mercedes-Benz Actros uses a combination of radar and a camera for enhanced recognition of pedestrians. It can fully brake the vehicle from speeds of up to 50 km/h (31 mph) in order to avoid hitting people in its path.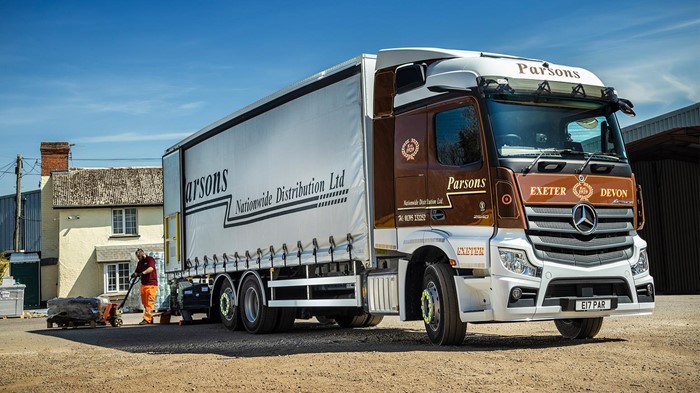 ---
The Actros' updated Predictive Powertrain Control system improves fuel economy and makes driving easier. It uses 3D GPS mapping to "read" virtually all A roads and many B roads ahead, including the topography of the terrain as well as corners, roundabouts, junctions, and traffic signs. The system then manages the truck's travel speed, braking, and transmission gears to eke out the best possible fuel efficiency.
Parsons's new Actros also has the interactive Multimedia Cockpit option with an upgraded 12-inch instrument panel. The Multimedia Cockpit features navigation, Traffic Sign Assist, and the Mercedes-Benz TruckApp Portal. Elsewhere in the cab, a new Truck Data Centre maintains an always-on connection with the cloud.
Find The Right Mercedes-Benz
Next month, Parsons expects to take delivery of a new Mercedes-Benz Atego 12-t (13.2-U.S.-t) rigid, which is currently being equipped with a curtainside body by A.G. Bracey of Bristol.
Truck Locator is a key online marketplace with a selection of new and used Mercedes-Benz trucks for sale, including Actros and Atego models.
Source: Mercedes-Benz