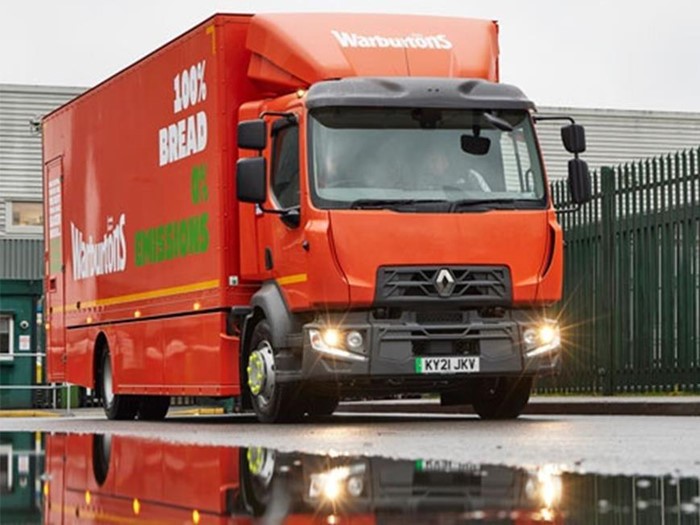 ---
Warburtons, the UK's largest bakery brand, recently added a Renault D Z.E., a 16-tonne (17.64-U.S.-ton) electric truck, to its fleet. The truck will operate out of the company's Enfield bakery, carrying up to six tonnes of bakery products per haul.
The D Z.E. as an ideal delivery truck for London, in part because it produces zero tailpipe emissions, allowing it to operate without incurring fees in the city's Ultra Low Emission Zone. According to Renault Trucks, Warburtons' model can cover up to 150 kilometres (93.2 miles) on a single charge. Depending on the configuration, the D Z.E. can reach up to 300 km (186.4 mi) on a charge.
D Z.E. Details
The Warburtons model is a 4x2 rigid with a box body, a side door toward the rear, and a tail lift added by PPS Commercials. The new truck is powered by 200-kilowatt-hour, 600-volt batteries. (The D Z.E. is also available with a 300 kWh battery.) The electric motor delivers maximum power of 185 kilowatts (248 horsepower) and continuous power of 130 kW (174 HP).
Warburtons' D Z.E. includes an AC charger for overnight (12-hour) recharging using a standard industrial outlet. When a DC fast charging station is available, the truck will charge up to 150 kW in about two hours.
Same Service, More Sustainable
"As our first 16-tonne electric truck goes on the road, we mark another important milestone in our sustainable fleet management," says Steven Gray, national transport manager for Warburtons. "By using the Renault Trucks D Z.E., we offer our customers the same quality of service but with zero tailpipe emissions and quieter operation in urban environments."
Of course, reducing fuel usage also lowers Warburtons' operating costs. And for greater peace of mind, Renault Trucks offers its Battery Performance Promise, which guarantees the battery will operate for up to 10 years or deliver 250 megawatts of energy over the vehicle's life.
Find Renault Trucks For Sale
You'll find hundreds of new and used Renault trucks for sale every day on Truck Locator, including Renault rigid trucks.