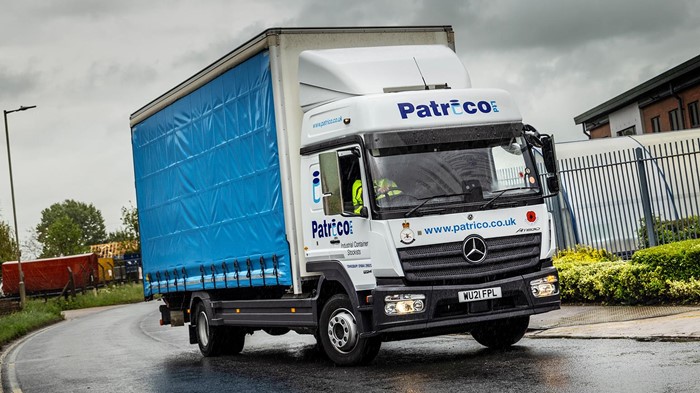 ---
With its recent acquisition of a 12-tonne (13.2-U.S.-ton) Atego rigid equipped with a BigSpace sleeper cab, packaging specialists Patrico of Tewkesbury, Gloucestershire, now has five Mercedes-Benz trucks in its distribution fleet. The remainder consists of two more Atego rigids and two Actros tractor units. Since its founding in 1983, Patrico has given other manufacturers' trucks a go at delivering cartons, steel drums, large intermediate bulk containers, and more throughout England and Wales, but the firm keeps returning to trucks with a three-pointed star.
"We've tried other brands occasionally, but invariably found that no matter how well they started out, they just couldn't last the pace like a Mercedes-Benz," says Patrico Director John Herbert.
---


Consistently High Resale Values
Patrico's new Atego 1224 is equipped with a 7.7-litre, six-cylinder engine that delivers 238 horsepower (175 kilowatts), as well as a six-speed PowerShift 3 automated manual transmission. Its high-volume curtainside body was provided by Fred Smith & Sons of West Bromwich. The new rigid came from Rygor Commercials, which claims to be the UK's largest Mercedes-Benz van and truck dealer, and has replaced another Atego that was seven years old and had logged over 300,000 kilometres (186,400 miles).
"I knew we'd have no trouble selling that truck on, and so it proved," says Herbert. "The resale value of Mercedes-Benz trucks is consistently high. We always get a decent return."
---


A Big Space For Drivers
Some of Patrico's drivers have been with the company more than 25 years. Herbert says because drivers are regularly out overnight on deliveries, Patrico tries to look after them, and that starts with comfortable trucks. As such, Patrico specified the new Atego with a roomy, comfortable BigSpace cab.
"As far as possible, we assign each truck to one person, and they tend to treat them as their own. If you give a driver a smart truck, they make sure it stays that way," Herbert says. "The Atego is a proven performer. It's exceptionally durable and cost-effective, and is also well-liked by our drivers. For us, it's just the best truck out there."
Find Your Mercedes-Benz Truck
Truck Locator provides buyers with hundreds of new and used Mercedes-Benz trucks for sale, including big selections of Actros and Atego trucks.
Source: Mercedes-Benz