---
Mercedes-Benz says its battery-powered eActros, the manufacturer's first series-produced electric truck, will debut for heavy-duty distribution on 30 June. The digital world premiere will be streamed online and will present technical details along with digital services and consulting offers for eActros customers. Production is slated to begin at the Wörth am Rhein plant in the second half of the year.
About The eActros
During development, Mercedes-Benz relied heavily on input from truck operators. Prototypes began intensive customer testing in 2018, and to date they have logged over half a million kilometres on public roads. In two test phases, around 20 test customers made either the 18- or 25-tonne eActros an ad hoc part of their fleets. The trucks were used to transport chilled goods in an electric-powered refrigerated box body, to supply production components at a manufacturing facility, to replace waste containers, and to carry fly ash for production of concrete. Testing was conducted in Germany, Switzerland, Belgium, and the Netherlands.
Developers also subjected the eActros to endurance tests to determine safety, performance, and durability, operating the truck in extreme heat and winter conditions and subjecting it to noise measurement and electromagnetic compatibility tests. Mercedes-Benz parent company Daimler Truck AG has set a goal to have its vehicle portfolio include series-produced battery-powered drive systems in Europe, the United States, and Japan by 2022, and to exclusively offer carbon-neutral vehicles by 2039.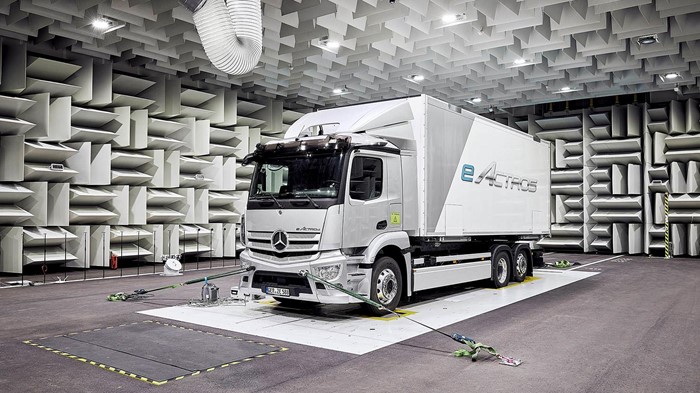 ---


"Innovative Strength"
"We first presented a concept for a heavy-duty electric truck back in 2016," says Mercedes-Benz Trucks Head of Sales & Marketing Andreas von Wallfeld. "Only two years later, we put our thoroughly further developed prototypes to a tough test by renowned customers. The eActros that we will now unveil is the final result of all the experience we gained on the road and on test rigs. It is a reflection of the innovative strength of our Mercedes-Benz brand when it comes to alternative drive systems. At the same time, the vehicle is also the result of our close and intensive cooperation with our customers. Thanks to intensive practical testing, we will launch a vehicle that is completely tailored to the customers' needs and offer it along with an extensive range of services. We are all looking forward to the world premiere on June 30."
Find Mercedes-Benz Trucks
You'll find a large selection of Mercedes-Benz trucks, including Actros models, for sale every day on Truck Locator.
Source: Mercedes-Benz