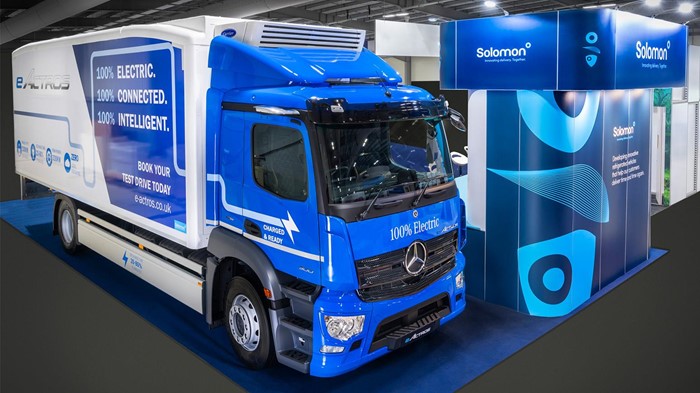 ---
Mercedes-Benz decided to take a new direction when designing its eActros, locating its twin electric motors in the rear eAxle and the batteries across the full width of the vehicle. As the eActros platform has grown, the manufacturer continues to display new variations on the theme, such as the recently unveiled 19-tonne (21-U.S.-ton) fridge-bodied eActros. The fully operational refrigerated eActros debuted at the ITT Hub event on 9th May in Farnborough, and Mercedes-Benz UK plans to showcase it at additional live demonstrations going forward.
"The eActros is a truck for a new era, and by launching this refrigerated demonstrator we're showing that it's ready to work in real-life applications," says James Venables, Mercedes-Benz Trucks head of future sustainability.
One Of A Kind—For Now
The refrigerated eActros was built in partnership with Solomon Commercials and is based on a 4x2 eActros 300. The rigid's estimated range is 330 kilometres (205 miles), and the refrigerated body boasts the bodybuilder's Slipstream system, which includes a tapered bulkhead, roof deflector, and sloping Kamm tail for optimum aerodynamic efficiency. The truck maintains cold temperatures using a Carrier TRS Syberia over-cab chiller unit, monitored by the Carrier Datacold temperature system. The all-electric reefer truck also includes a 1,500-kilogram (3,307-pound) Dhollandia column tail lift.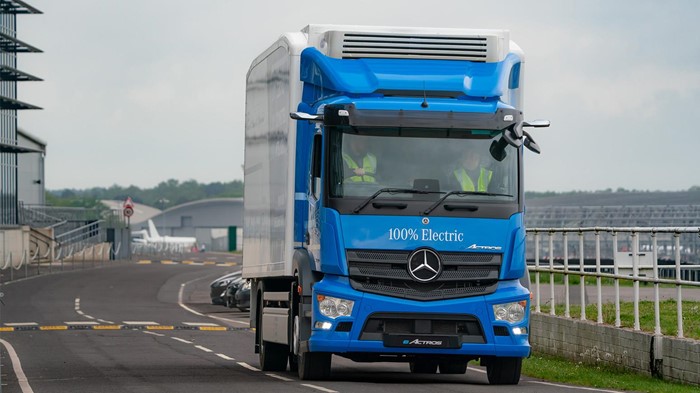 ---
"The road to net zero is no longer an optional extra; it's a certainty, and more and more customers are actively looking to introduce carbon-neutral policies and to minimise the impact of their vehicles on the environment," says Solomon Commercials Managing Director Anthony Clegg.
All-Electric Design
The demonstration model features three nickel manganese cobalt battery packs that bring the total electric capacity to 336 kilowatt hours. Mercedes-Benz says the batteries can be recharged from 20% to 80% in 75 minutes when plugged into a 400-amp, 160-kilowatt charger. The location of the batteries across the width of the truck offers a lower centre of gravity than the diesel-powered counterpart, and the lack of a combustion engine reduces noise and vibration in the eActros' ClassicSpace cab. Mercedes-Benz says the eActros 300 can cruise at up to 89 km/h (55 mph).
Find The Right Mercedes-Benz Truck
When you visit Truck Locator, you'll notice how simple it is to find new and used Mercedes-Benz Actros rigids and tractor units, as well as other Mercedes trucks for sale.
Source: Mercedes-Benz