---
---
Scania received the Greener Supply Chain Award at the inaugural Automotive Logistics Awards ceremony, which took place on 12 June in Bonn, Germany. The decision to give the award to Scania is based on the manufacturer's work in Germany and other Benelux countries focusing on reducing CO2 emissions, which it has achieved by lowering its overall carbon footprint by 20 percent while at the same time reducing costs by 8 percent. Judges pointed out that Scania "changed the culture of its organisation" in order to achieve the goal of a greener supply chain.
Success Across Europe
Scania will now apply its philosophy of balancing cost, quality, and reducing CO2 emissions to all of its European operations, and has already seen some promising results by reducing carbon emissions anywhere between 10 and 60 percent depending on the location. Because transportation is starting to favor variety in fuel types over opting for diesel only, Scania has now has the ability to look at a given region and decide what alternative fuel sources would work best to reduce CO2 emissions.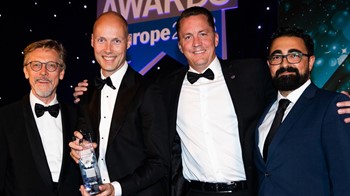 ---
"This will differ from route to route and country to country," said René Brill, Head of Supply Chain Networks at Scania, in a statement. "Using this knowledge, we then issue requests for quotes from transporters and choose the one that offers the best balance between our three determining factors. But the availability of renewable fuels is increasing quickly, and we therefore re-examine the transport environment every three years."
Find Scania Trucks
If you're in the market for used Scania trucks, you'll fund hundreds for sale on TruckLocator.co.uk. Listings cover multiple categories, including used Scania tractors with sleepers, used Scania box trucks, and used Scania municipal trucks.