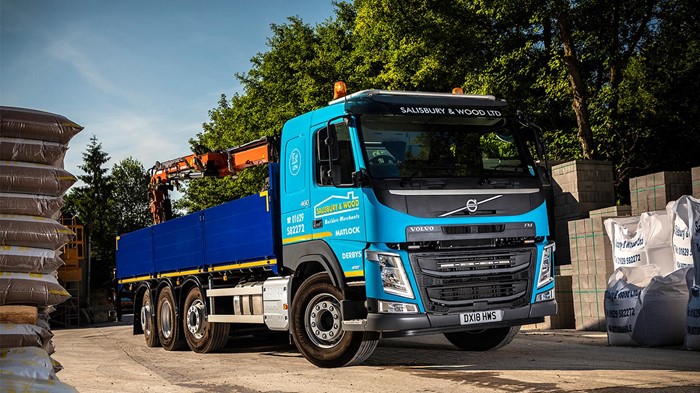 ---
Salisbury & Wood Ltd of Derbyshire recently added a Volvo FM 8x2 Tridem rigid truck to its fleet, which consists entirely of Volvo models. The FM features a 460-horespower D13K engine for heavier haulage jobs and features Volvo Engine Brake Plus (VEB+) for safer operation in urban areas. It also includes an uprated suspension necessary to support a rear-mounted crane and a reversing camera. However, the major selling point for Salisbury and Wood Ltd was the manoeuvrability.

"He Got In With The Tridem"
"We chose a Tridem because we do a lot of work taking decorative gravels and spars all over the country, particularly into London," says Ken Bowner, director of Salisbury & Wood. "The new FM Tridem can get into the same sites our six-wheelers can, that's where the Tridem bit comes in. The driver who's got it has been with me for over 20 years. He went to a job the other week which was inaccessible with his old truck, but he got in with Tridem."

Job Well Done
Bowner admits that it was difficult to find just the right vehicle to meet his firm's needs, but he credits David Eyres, area sales manager for Hartshorne Motor Services Ltd, with making the process go as smoothly as possible. Salisbury & Wood is happy with the purchase, and they will take advantage of Hartshorne's expertise for all future maintenance. "We've got just what we wanted, and the new Tridem is already making a difference and we're getting a lot more work because of it," Bowner says.

Visit TruckPaper to find hundreds of used Volvo trucks for sale, including FMs and a wide variety of other models.