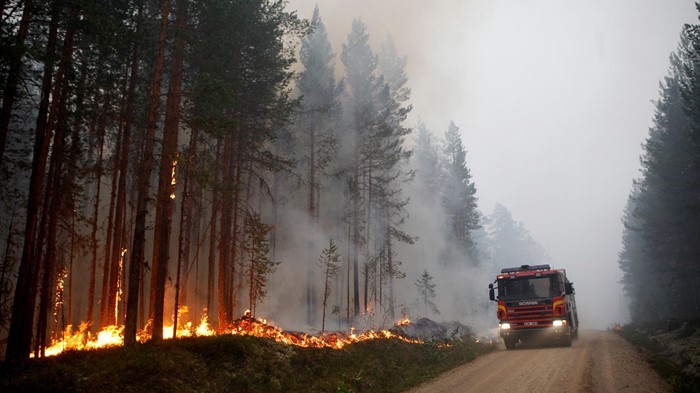 ---
The Södertörn Fire Protection Association in Södertälje, Sweden, used Scania CrewCab fire trucks to help in the fight against a series of forest fires across Sweden this past summer. One particularly challenging fire occurred in Älvdalen, is northern Dalarna County. In this instance, rather than being directly in the fight, the department's Scania fire trucks were used as reliable transportation vehicles to get firefighters "as close to the fire as possible," according to Markus Erlandsson, incident commander and operations manager for the Södertörn Fire Protection Association.

---

Scania Versatility
These forest fires illustrated the versatility of Scania fire trucks because the manufacturer designed the CrewCab models to hold two passengers in the front and up to four passengers in the back. This allowed firefighters to get to the scene quickly before loading into other vehicles that moved them deeper into forests; there they would use lake water pumped through many kilometres' worth of fire hose to hold back the flames. However, with the Älvdalen fire being 30 kilometres in circumference, more help was needed in the form of airborne water bombing.

In Their Element
Erlandsson, thanks to being an incident commander and operations manager, is always looking toward the future, taking technologies like drones into consideration as a way to get a better lay of the land and see what exactly needs to be done to best fight a specific fire. However, the fire department he oversees still has a place for reliable vehicles like Scania's CrewCab fire trucks, especially when fighting smaller fires where a truck with hundreds of metres of hose is better suited. Erlandsson says it's in the those moments where "we can use their full potential and capacity."

TruckLocator has a number of used Scania trucks for sale as well as nearly new fire trucks from a wide range of manufacturers.