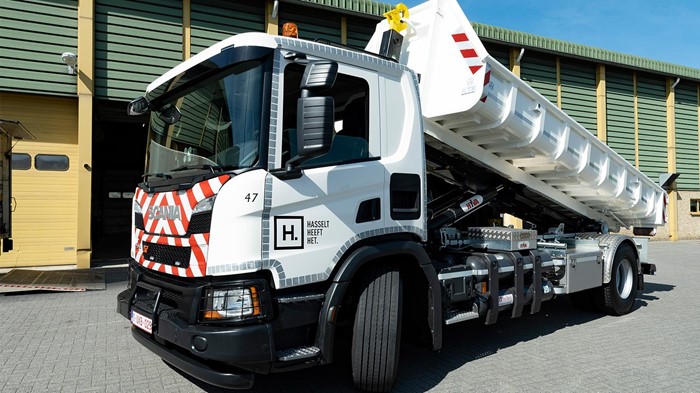 ---
The city of Hasselt in Belgium recently purchased a new Scania P340 4x2 hooklift truck, which runs on compressed natural gas (CNG) and is a part of Scania's new XT line of construction-focused vehicles. Hasselt chose the vehicle because it will help reduce emissions. "CNG ensures lower carbon emissions, but what is even more important in urban environments is that this truck emits 95 percent fewer particles, unlike its diesel counterparts," says Joost Venken, councillor for environment and sustainability in Hasselt. "In addition to the health benefits, CNG is also considerably cheaper to operate."

Toward A Cleaner Fleet
Before it landed on the Scania P340, Hasselt knew it wanted a cleaner vehicle, but also that "electric trucks that meet requirements are not yet available in Belgium," explains Michel Froidmont, councillor for infrastructure and public works in Hasselt. For that reason, the city decided to choose the next best option and go with CNG.

Ready For The Future
Venken adds that by putting this new truck into operation, it shows that Hasselt and the larger Limburg province in Belgium are committing to non-diesel vehicles that offer the same performance as diesel-powered alternatives. "There is no compromise on power, and compared with electric vehicles, CNG refuelling is considerably faster," he says. "Scania's gas engines can also run equally well on biogas in the future, so we can continue to significantly reduce CO2 emissions."

This site has a large selection of used Scania trucks for sale, including a number of nearly new P Series trucks.