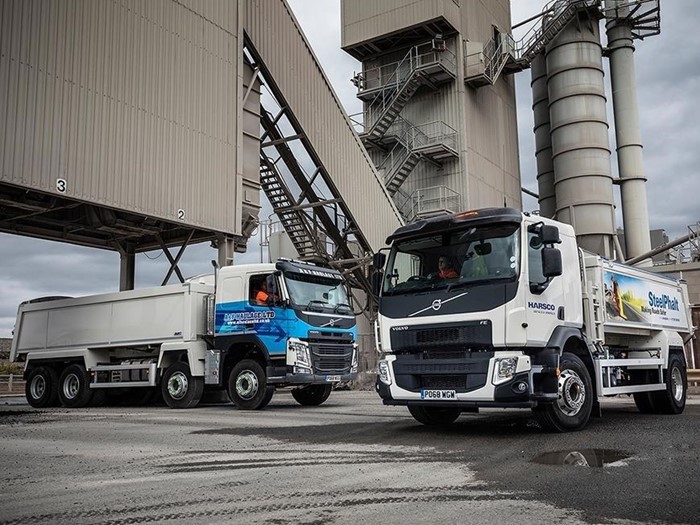 ---
Bolton-based A&F Haulage recently ordered five Volvo FM 8x4 trucks and one FE 4x2 model. A&F Haulage primarily focuses on transporting asphalt, aggregates, and other similar materials and has trucks ranging from 16 tonnes up to 30 tonnes to handles jobs both large and small. The company is working to modernise its fleet of more than 100 trucks, and at the same time needs to bring in the FE 4x2, the company's first four-wheel truck, to fulfill a customer contract.

"It's not so much in and out of quarries, as soft work from city to city," says Masood Raza, managing director at A&F Haulage. "The FMs have a high cab in order to have good ground clearance for the odd occasion when they're going off-road and we chose sleeper cabs so that there's more room and storage for the drivers. We have always operated Volvos, since the early stages of the company. It's all about the product and the reliability: it's a great all-round vehicle."

Order Details
Each of A&F Haulage's Volvo FM 8x4 rigid trucks has a sleeper cab and the X-high chassis height with B-ride. They also feature Volvo D8K Euro 6 engines that produce 410 horsepower as well as I-Shift 12-speed automated mechanical transmissions. The company chose the standard height option for its Volvo FE 4x2 rigid truck, which sports a six-cylinder, Volvo D8K engine that produces 320 horsepower and an I-Shift 12-speed automated gearbox. All six of the trucks will have tipper bodies.

Find Your Next Vehicle
If you're in the market for a used Volvo FE, FM, or other similar model, you'll find hundreds of nearly new Volvo trucks for sale on this site. You can also narrow your search or click the following links to find Euro 6-rated Volvo FM trucks.