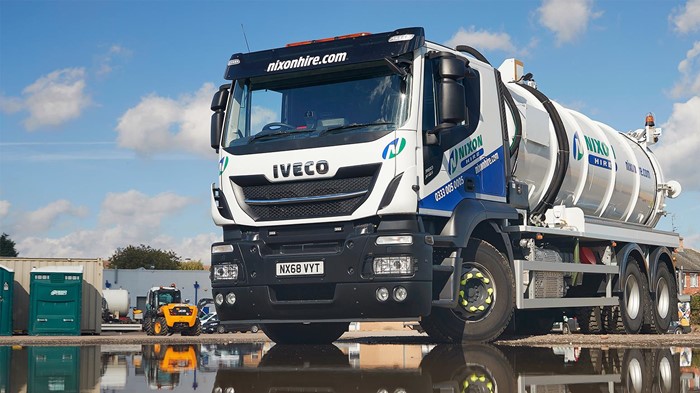 ---
Nixon Hire, based in Newcastle upon Tyne with 14 depots across the United Kingdom, recently added three Stralis X-Way 26-tonne, 6x4 rigid trucks to its all-IVECO fleet of tankers. The new trucks are equipped with 8.7-litre Cursor 9 diesel engines that produce 360 horsepower and 1,650 newton metres of torque. They also take advantage of IVECO's HI-SCR (selective catalytic reduction) technology, which passively regenerates the diesel particulate filter (DPF) rather than requiring periodic stops for forced regeneration.

"We know how reliable IVECO trucks are because we've been using them for years," says Graham Wood, group logistics manager at Nixon Hire. "But the Stralis X-Way adds another dimension to our fleet, giving us a bigger payload and even better performance for our long-distance work."

Road Warriors
Nixon Hire's Stralis X-Way trucks all have sleeper cabs designed for maximum driver comfort, because the company plans to run them five days a week at 50,000 miles per year for seven years. They also feature the HI-TRONIX automated transmission, HI-MUX electrical system, and HI-CRUISE integrated drive system. HI-CRUISE is a predictive cruise control technology that uses GPS data to maintain speed and change gears at the proper time for maximum fuel efficiency. These trucks are configured with the ON+ homologation setting, which means they are spec'd for on-road operation, "but with higher approach angles and ground clearance, plus improved bumper protection," according to IVECO.

24/7 Support
The new Stralis X-Ways will join forces with Nixon Hire's three Trakker rigid tankers, all of which will be used to deliver clean water to its customers. North East Truck & Van supplied the trucks, and they are covered by the IVECO Elements repair and maintenance contract, which includes overnight servicing to reduce downtime. "It makes such a difference to our operations if we can drop a truck off with a dealer at the end of the day and have it back first thing next morning," says Wood. "The aftersales support we get from IVECO is excellent."

You'll find hundreds of nearly new IVECO trucks for sale every day on this site, including a big selection of Stralis tractor units and rigid trucks in a variety of configurations.