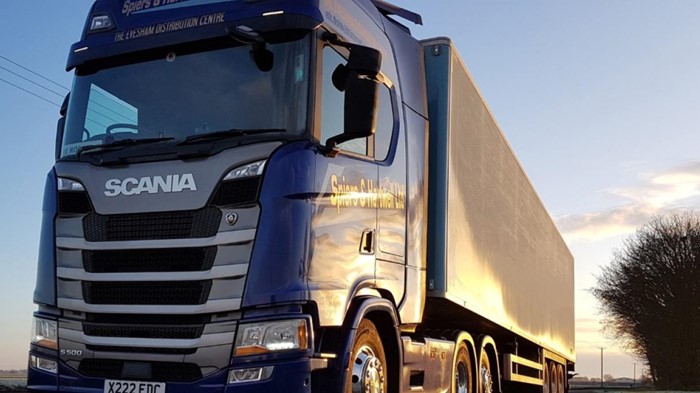 ---
Spiers & Hartwell, based in Blackminster, Worcestershire, recently placed an order for one Scania S730 and 11 Scania S500 6x2 trucks, which will soon join the company's fleet of 50 Scania vehicles. Keltruck Limited, a Scania dealer based in West Bromwich, has a relationship with Spiers & Hartwell that spans 35 years and will deliver one truck per month throughout 2019. Each of the vehicles is backed by 3-year repair and maintenance contracts.
"The New Generation Scania vehicles offer everything that the drivers want—extra storage and a comfortable bed—and having shiny new trucks definitely makes a difference to the employees," says Adrian Lake, operations manager at Spiers & Hartwell. "Want to see how much our drivers care about their vehicles? Take a look at the wash at 3 a.m. in a morning, you'll see them all lined up about to be washed so that they can take a picture of it and put it on their social media."

Scania S-Series
The Scania S-series offers several different engine options ranging from a 370-horsepower, 13-litre engine that produces 1,900 newton-metres of torque up to a 730-horsepower, 16-litre engine that offers 3,500 newton-metres of torque. Available transmissions include 8-speed range-change and 12-speed range-splitter gearboxes. Spiers & Hartwell purchased a few S500 models in 2018 and is already seeing the benefits, including a 12% better fuel efficiency for the fleet.

"We achieve 9.5 mpg with the new vehicles, we were getting 8-8.5 mpg with the previous generation," says Lake. "As you can imagine, with a fleet of 50 trucks this can quickly add up. We have a long-term partnership with Scania. Some companies may think that using one company for everything—vehicles, telematics, driver training, repair and maintenance—is a risk, but for us it's a comfort knowing that everything is being taken care of by Scania and makes it simpler for us."

Find Your Scania
This site offers hundreds of nearly new Scania trucks for sale, including several used Scania S-series trucks.