---
Social Vend, a Brentford-based company that makes customised vending machines and kiosks that emphasize social media and customer engagement, recently purchased a new IVECO Daily Hi-Matic van to transport its tall machines. The 3.5-tonne van has a maximum internal load height of 2.1 metres and a cargo load capacity of 13.4 cubic metres. It sports a 2.3-litre Euro 6 diesel engine that produces 136 horsepower and 350 newton-metres of torque, all on a 3.52-metre wheelbase. It also features an 8-speed Hi-Matic automated transmission, which IVECO says can switch gears in 200 milliseconds and "reduce repair and maintenance costs by 10% versus a standard manual transmission."
One & Done
It only took Social Vend a 30-minute test drive and a short loading test to decide the Hi-Matic was the right vehicle for the job. The van has a 600-kilogram Dhollandia tail-lift that makes loading and unloading safer and easier, and the company found the automatic transmission to be a major plus as well. The company also decided to cover its new Daily with a five-year IVECO Elements repair and maintenance plan, with IVECO Retail taking care of all the necessary work.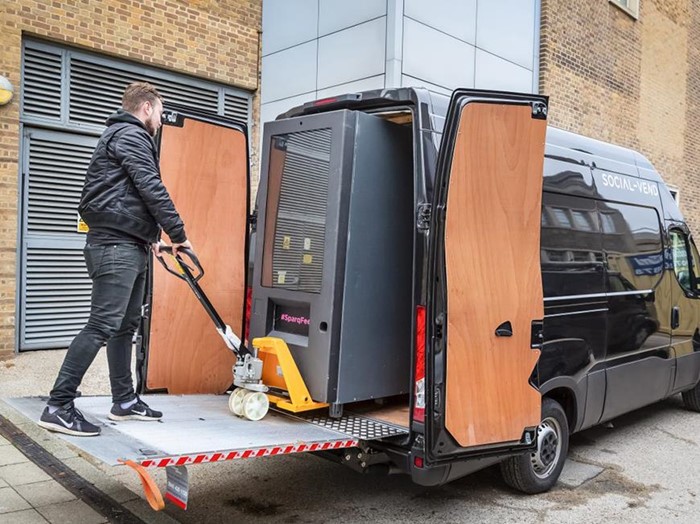 ---
"IVECO was the only manufacturer that offered us the full package – a vehicle small enough to tackle tight, inner city streets but with the height to fit our tallest machines safely inside," says Andrew Theodore, CEO of Social Vend. "While the majority of our deliveries are in London, we also have to make long trips throughout the UK and across Europe so drive quality was important. The Hi-Matic gearbox is excellent and will ensure those long journeys are as comfortable as possible."
Daily Deals
If you're in the market for a used IVECO Daily or other similar model, you'll find hundreds of nearly new IVECO trucks and vans for sale on this site.