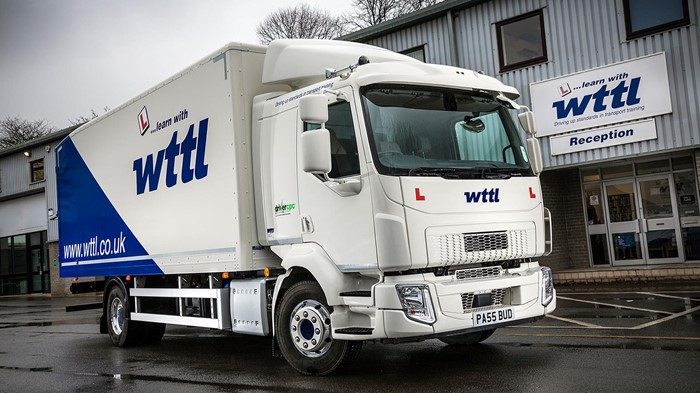 ---
Wiltshire Transport Training & Development Ltd., based in Devizes, recently purchased its first Volvo truck, which the company will fill with 5 tonnes of intermediate bulk containers (IBCs) and use for driver training purposes. The Volvo FL 4x2 16-tonne rigid truck features a medium cab and a box body from TWR Commercial Bodybuilders Ltd. on a short wheelbase, 4,700-millimetre chassis. It sports a 240-horsepower Volvo D5K engine and a six-speed I-Sync automated manual transmission. Other features include 19.5-inch wheels, an 11-tonne single reduction real axle, and front air and rear suspensions. The truck is backed by a 5-year Volvo Gold Service Contract.
---
Addressing Past Issues
Wiltshire Transport Training & Development chose the Volvo FL because its other models had trouble handling "our short mileage stop and start training drives with their attendant low engine temperature conditions," according to the company's owner, Nick Rees. This manifested in several different issues with the exhaust system and the potential for the engine warning light to turn on during tests. "That's a scenario we must avoid," says Rees. "With its manual regeneration system, the new Volvo FL eliminates that potential issue completely and a candidate who has trained all week can take their test without concern."
More On The Volvo FL
Volvo FL trucks are available in day cab, comfort cab, and crew cab configurations with gross combination weights ranging from 19 tonnes up to 40 tonnes. You have the option of D5K engines that produce 210 horsepower and 240 horsepower or D8K engines that produce 250 horsepower and 280 horsepower. Each truck in the lineup comes standard with an I-Sync automated manual transmission that make it well suited for operating in urban environments for delivery, waste management and recycling, and more.
If you're in the market for a Volvo FL or other similar model, or a used Volvo FL240 in particular, you'll find a large selection of used Volvo trucks for sale on TruckLocator.