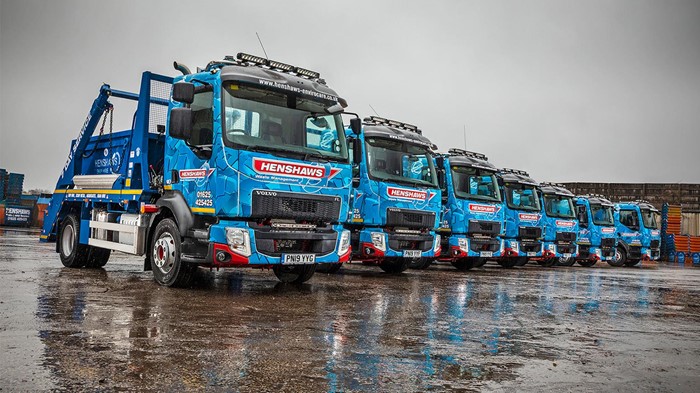 ---
Henshaws Envirocare Ltd, a waste management company based in Macclesfield, recently purchased seven new Volvo FL trucks. Each truck is a 16-tonne 4x2 rigid model with a 240-horsepower D5K Euro-6 engine, six-speed manual transmission, and Webb TA8 ExtraReach skip loader bodywork. The Volvo FLs feature day cabs, steel parabolic spring suspensions, vertical exhaust stacks, Kelsa LED light bars, and liveries by Tunnicliffe Creative Signs & Graphics, also based in Macclesfield.
Long-standing Relationship
Henshaws Envirocare has been a Volvo customer since 2002, and also has an FM model in its fleet used for yard shunting activities. The company typically keeps its trucks for three to four years, and while two of the recently purchased Volvo FLs are brand-new additions, five of them are replacing older models in the fleet.
"We usually operate on a local basis and our fleet our 30 vehicles works within a 12-mile radius. We find a manual gearbox is still the best choice for frequent skip collection and delivery jobs and for maximum safety standards all the trucks have reinforced parking brakes acting on the front wheels," says James Henshaw, transport manager at Henshaws Envirocare. "Our drivers like the new Volvo FL rigids. They report good handling levels and appreciate the standards of cab comfort.
---
Find The Right Volvo For You
The Volvo FL range features models with day cabs, comfort cabs, and crew cabs with gross combination weights ranging from 19 to 40 tonnes. These trucks are well-suited for waste management as well as city distribution and light construction work. They are available either with Volvo D5K (210 or 240 horsepower) or D8K (250 or 280 horsepower) engines. You'll find hundreds of used Volvo trucks for sale on TruckLocator, including a large selection of FL and FM models.