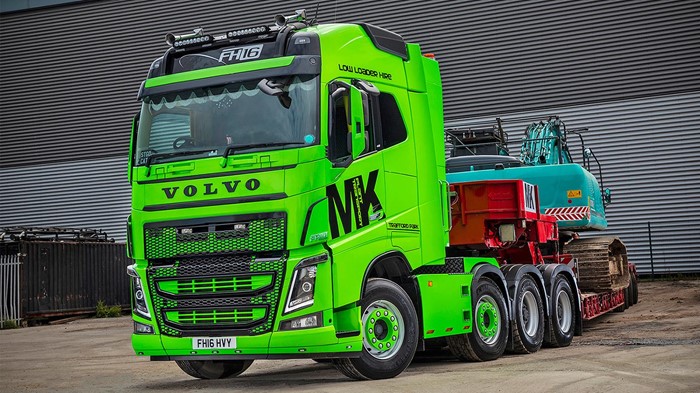 ---
MK Plant Transport, a low loader business based in Manchester, recently purchased a new Volvo FH16-650 model from Thomas Hardie Commercials Ltd. The 170-tonne 8x4 tractor unit features a Globetrotter Cab, a 16-litre Volvo D16K engine that produces 650 horsepower and 3,150 newton meters of torque, an I-Shift Crawler transmission, a gearbox retarder, a Jost 38C sliding fifth wheel, and a 860-litre fuel tank mounted behind the cab. The truck is also covered by a five-year Volvo Service Contract.
Purpose-Built Truck
MK Plant Transport customized its new FH16 model extensively by adding chassis in-fills and side skirts, a catwalk, colour-coded components, and custom toolboxes, all of which were fitted by Burrow Fabrications in Milnthorpe. The company also opted for The Volvo Drive Plus and Media Package as well as heated and vented leather seats for the interior. It also features a refrigerator, microwave oven, and space for a television.
"The flexibility and capacity offered by the new Volvo FH16-650 will reduce the use of jeep dollies on our two low bed trailers," says Nick Malpus, owner of Mk Plant Transport. "We are looking to order a new trailer in 2019 and we've streamlined the fleet back to four Volvo FH tractor units, which are supported by two pick-up trucks hauling plant trailers. The latter vehicles are creating new income streams. However, hand on heart, I can say we've had no problems with our Volvo trucks. Our drivers love them and they can't fault the FHs."
---
Go Volvo
If you are in the market for an FH16 or other similar model, you will find a large selection of used Volvo trucks for sale every day at TruckLocator.