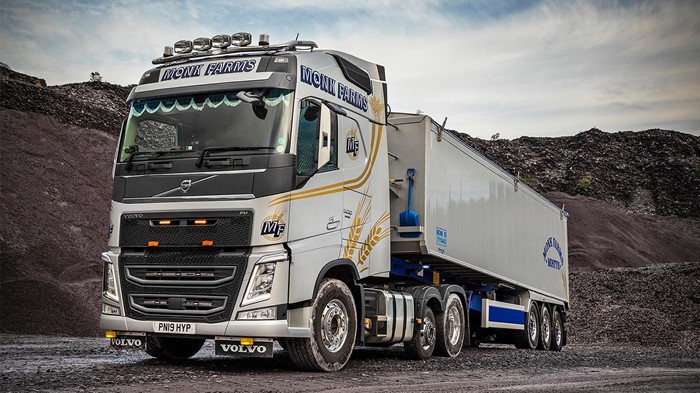 ---
Monk Transport, a bulk haulage specialist based in Mostyn, North Wales, recently added three new Volvo FH-500 trucks to its fleet. Supplied Thomas Hardie Commercials of Deeside, each 6x2 tractor unit features a Globetrotter cab on a 4,000-millimetre wheelbase, a Volvo D13K Euro-6 engine that produces 500 horsepower and 2,500 newton metres of torque, an I-Shift 12-speed automated transmission, a 4.5-tonne Lite pusher axle, and RSS1356 rear axles. Other features include a Metallic Silver paint colour on the cab and Alcoa Dura-Bright alloy wheels.
Ready To Carry The Burden
James Monk runs Monk Transport with his brother, Philip, and points out that moving to a lighter-weight FH model has allowed the company to haul heavier payloads and make deliveries in fewer trips. "The fleet is a mix of brands, and we had an identical specification Volvo FH before with the traditional 7.5-tonne gross vehicle weight pusher axle," he says. "This time we chose Volvo's Lite pusher axle and it saved 500 kilograms. The three new FHs are now the lightest vehicles in the entire fleet, and with a trailer coupled we can achieve a payload figure of 29,100 kilograms. This is important, the trucks will do up to 140,000 kilometres a year, often completing two trips a day, meaning we save a journey every six weeks."
---
A Hit With Drivers
Monk also adds that the Volvo models help the company attract talent in a marketplace that can sometimes be difficult. "To do this, we opt for Volvo trucks featuring the highest level of driver comfort including luxury leather seats, touchscreen satellite navigation, microwave ovens, fridge/freezers, and televisions," he says. "When you combine this with the legendary driveability of the Volvo, we feel it's a winning combination and the drivers' incredibly positive feedback is testament of this."
You will find a large selection of used Volvo trucks, including dozens of FH-500 models, for sale at TruckLocator.