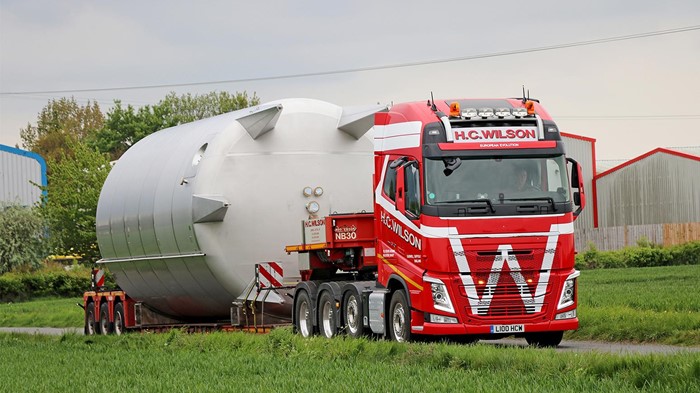 ---
H.C. Wilson Transport Ltd, an industrial plant and fabrication transport specialist based in Bury St Edmunds, Suffolk, recently purchased its first new Volvo model, an FH-540. The 8x4 Tridem Pusher Axle tractor unit features a Globetrotter XL cab on a 3,900-millimetre wheelbase. It also has a Volvo D13K engine that produces 540 horsepower and 2,600 newton-metres of torque, an I-Shift Crawler gearbox with a multi-speed reverse gear, and a retarder mounted to the transmission that "provides a substantial secondary braking system," Volvo says.
The Right Fit
The new Volvo FH model features a steel front bumper, Dura-Bright EVO alloy wheels, and a Jost cast-fixed fifth wheel. While it will primarily operate in the 55- to 60-tonne range, it is capable of handling applications up to 90 tonnes. Volvo adds that "both the front and pusher axles are nine-tonne air suspension units, the latter contributing to a rear bogie capacity of 32 tonnes." Simon Wilson, managing director at H.C. Wilson Transport Ltd, says the company used to get its four-axle models from Holland, but thanks to changing requirements in Germany, it turned to local dealer Volvo Truck and Bus Centre East Anglia to supply its newest vehicle.
"European work makes up two-thirds of our total business and the regulations around German first-axle weights drive our choice of four-axle tractor units," says Wilson. "I'm not a big fan of really big engines, but we have to balance power outputs and fuel consumption levels with terrain traversed and higher operating weights. We operated some early Volvo FHs that were sourced as used in the mid-1990s, but this is our first Volvo ordered new. We're feeling our way with the vehicle at present and it's early days. However, there's been no complaints from the driver."
---
Go Volvo
If you are in the market for a Volvo FH or other similar model, you will find a large selection of used Volvo trucks for sale on TruckLocator.