---
Volvo Trucks has provided a pair of alternatively powered FM tractor units to Flogas Britain of Syston, Leicester, making it the first gas supplier in the UK to use Volvo's Bio-LNG (liquefied natural gas) trucks. The vehicles will be used to transport bulk LPG (liquefied petroleum gas) and LNG across the country. Flogas Britain has the largest nationwide LPG delivery network in the UK.
"These trucks are just the first of many, as we look to make our 200-strong fleet cleaner, greener, and increasingly future-proof," says James Goodson, National Account Manager for Alternative Transport Fuels at Flogas. "They will each be powered by approximately 30 tonnes of renewable Bio-LNG each year—a highly sustainable biofuel that's produced during the anaerobic digestion process. This means they'll be 50% quieter, they'll release significantly fewer pollutants, and fuel costs will be far lower."
Tractor Specs
The two Volvo FM tractors' LNG-burning G13C460 engines produce 460 horsepower (343 kilowatts) at 1,700 to 1,800 rpm, along with 2,300 newton metres of peak torque from 1,100 to 1,300 rpm. The engines feature exhaust pressure governors and the Volvo Engine Brake to help slow the truck in an energy-efficient manner.
The newest Flogas trucks are equipped with I-Shift 12-speed automatic transmissions, Lite pusher axles, and 2.64:1 single reduction drive axles. They ride on Alcoa aluminium alloy wheels and feature Globetrotter Cabs with Driving and One Bed Resting Packages. The tractors were supplied by David Beecroft, the Regional Key Account Sales Manager at Volvo Truck and Bus Centre in East Anglia.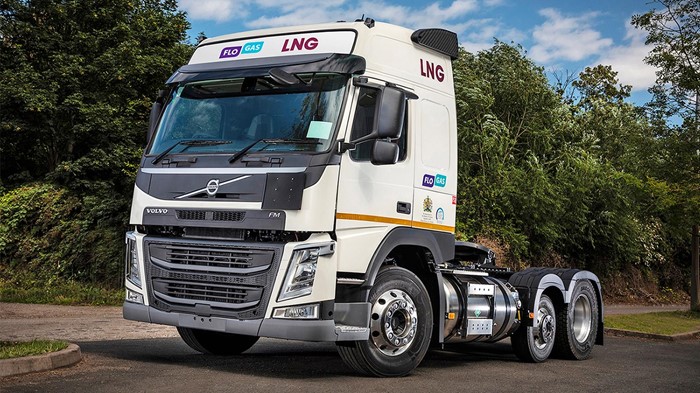 ---
Showing Their Quality
Flogas has put various alternatively powered trucks through bulk and cylinder hauling trials in its quest to make its fleet greener. The supplier already makes use of some dual-fuel and hybrid vehicles in its delivery network.
"When it came to delivering the cleanest emissions, the lowest noise, and most efficient running costs, Volvo Trucks came out on top," says Tim Eaton, Head of Logistics at Flogas. "This is the first time we've worked with Volvo, but they have strong experience in LNG-powered vehicles and the results of the trials simply spoke for themselves. We're excited to get these trucks on the road and growing our Bio-LNG-powered fleet further."
You'll find several hundred nearly new Volvo trucks for sale on TruckLocator, including a big selection of FM Series models.