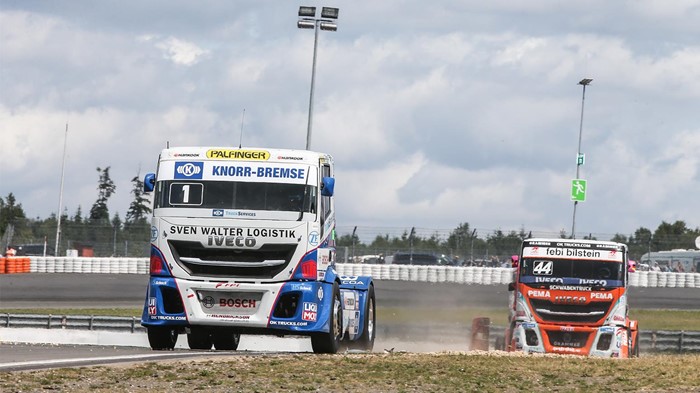 ---
The Die Bullen von IVECO racing team, which is sponsored by CNH Industrial subsidiaries FPT Industrial and IVECO, won the FIA European Truck Racing Championship 2019 for the second consecutive year. The winning team is a partnership between the Hahn Racing Team and Schwabentruck Team. Die Bullen von IVECO ended the season with 627 points, with driver Jochen Hahn earning 370 points thanks to 13 wins and 18 additional podium placements (enough for first place) and driver Steffi Halm earning a fourth-place finish with 212 points and 11 podium placements.
IVECO Stralis Racing Truck
The real star of the Die Bullen von IVECO racing team is a 5.3-tonne Stralis 440 E 56 XP-R truck powered by a 1,180-horsepower (880-kilowatt) Cursor 13 engine. The truck can reach speeds of 160 kilometres per hour (99.4 miles per hour), which IVECO says is "the maximum speed allowed by sporting regulations." The Cursor 13 engine was developed at the FPT Industrial's research and development center in Arbon, Switzerland, and was specifically designed for championship racing. Team Hahn has relied on a Stralis truck in competition for three years and the Schwabentruck Team has been racing with trucks from CNH Industrial brands for a decade.
Another Successful Season
"We are very proud of the outstanding results achieved by the Die Bullen von IVECO Team on our Stralis trucks, which have once again proven their capacity to compete at the highest levels, reliably and consistently delivering winning performances," says CNH Industrial President, Commercial and Specialty Vehicles, Gerrit Marx. "It was thanks to great team effort from the many technicians, engineers and mechanics who have worked alongside the drivers, which has been rewarded with another title in the European Truck Race Championship. Well done to all!"
You will find a large selection of used IVECO trucks for sale on TruckLocator, including scores of Stralis models.