---
After the November launch of Volvo FE Electric and FL Electric trucks for urban applications such as distribution and refuse collection, Volvo has now set its sights on heavy-duty haulage with electric models designed especially for regional distribution and construction/vocational applications.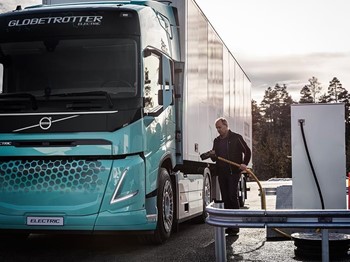 ---
The manufacturer recently introduced the Volvo FH LNG (liquefied natural gas) model for long-haul operations and the FM LNG for regional transport. Both models are compatible with either LNG or biogas.
Volvo's newest initiative, however, consists of several heavy-duty electric concept vehicles. Volvo says it will kick the project off with a pilot program in Europe in which a handful of customers will test "a small number of future electric vehicles."
"We see great potential for heavy-duty electric trucks for regional transport and construction in the longer term," says Roger Alm, president of Volvo Trucks. "With our concept trucks, we aim to explore and demonstrate different solutions for the future while evaluating the level of interest in the market and in society."
Cleaner, Quieter & Safer
There are many potential benefits to putting heavy-duty electric trucks on the road and on construction sites, including lower noise levels and reduced emissions. Quieter trucks have obvious benefits for urban applications, as local noise restrictions can limit operating hours. The same goes for construction and regional distribution vehicles, which could more easily operate on sites or make deliveries within city limits outside of peak hours or overnight. And lower emissions not only lead to cleaner air in general, but Volvo points out that it also results in "significantly improved working environments both inside and outside of the vehicle" for those working around the trucks as well as for drivers.
The Volvo FE and FL Electric models will soon provide real-world examples of how electric vehicles can positively affect urban areas. They will go on sale first in France, Germany, the Netherlands, Norway, Sweden, and Switzerland with production planned to start in March 2020. The Volvo FL Electric has a gross vehicle weight rating (GVWR) of 16 tonnes (17.6 U.S. tons) and the FE Electric has a GVWR of 27 tonnes (29.8 U.S. tons).
More Work To Be Done
Lars Mårtensson, director of environment and innovation at Volvo Trucks, says that regional transport trucks in Europe "have an average annual mileage of 80,000 kilometres [49,709.7 miles]," which illustrates the potential for electric vehicles to make a positive impact on the environment. However, he admits there is still quite a bit of work left to do to make these trucks go more mainstream.
---
"On the one hand, an extensive expansion of the charging infrastructure is needed, and on the other hand it's necessary to ensure that regional power networks can deliver sufficient transfer capacity in the long term," Mårtensson says. "Financial incentives are necessary to induce more hauliers to invest in electric vehicles. Transport buyers can also contribute by offering longer contracts and being more willing to pay for sustainable transports. Many haulage operators have very small margins, so every new investment must be profitable."
You will find a large selection of used Volvo trucks, such as Volvo FE (including the FE320), Volvo FH, and Volvo FM models, for sale at Truck Locator.