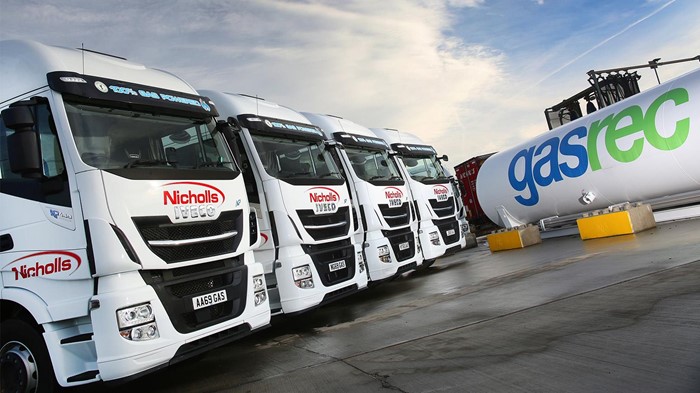 ---
Nicholls Transport, a haulage specialist based in Sittingbourne, recently opened the first LNG (liquefied natural gas) refuelling station in the Kent area with the help of Gasrec. Nicholls will use the new station to refuel its 10 recently ordered IVECO Stralis NP 460 6x2 tractor units, but the company will also allow third-party companies to use the station "by arrangement," according to IVECO. The new refuelling station and LNG vehicles mark an important first step for Nicholls as it moves toward becoming a more efficient and sustainable trucking operation.
A Sustainable Future
"Moving to natural gas shows how much we care about our planet. It's our collective responsibility as an industry to do something to tackle climate change and make road transport more sustainable, and by opening this LNG station and investing in the Stralis NP fleet, we're showing our customers and competitors that's possible to do today," says Paul Nicholls, managing director of Nicholls Transport. "We very much hope other local businesses in North Kent share our vision for a sustainable future and buy in to LNG in the same way. As an industry, we really need to make this happen."
---


More On The IVECO Stralis NP
Nicholls' new IVECO Stralis NP 460 trucks come standard with a 460-horsepower (343-kilowatt) 12.9-litre Cursor 13 NP engine and a Hi-Tronix gearbox. The tractor units, which are ideal for applications of up to 44 tonnes, will accrue roughly 175,000 kilometres (108,740 miles) per year and stay in operation for at least five years. IVECO adds that the trucks all have gas tanks mounted on both sides of the chassis, which gives them a 610- to 640-km (370- to 397.7-mile) range that's "perfect for vehicles operating on same-day, back-to-base missions."
The Euro VI engines that power the Stralis NP LNG models reduce NO2 emissions by up to 90%, particulate matter by up to 99%, and noise by 50%, and they can reduce carbon dioxide emissions by up to 95% when running on biomethane. The Stralis NP also has a 90,000-km (55,923-mile) maintenance interval and doesn't use "complex aftertreatment systems," which adds "significantly to its low-maintenance advantages," IVECO explains.
You will find a large selection of used IVECO trucks, including a number of Stralis tractors and rigids, for sale on TruckLocator.