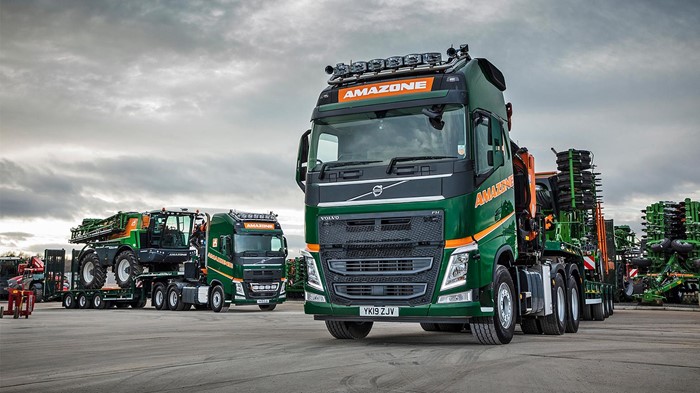 ---
Amazone Ltd, a farm machinery and ground care equipment manufacturer based in Doncaster, South Yorkshire, recently added two new Volvo FH trucks to its fleet. The two tractor units feature Globetrotter XL cabs with Twin Bed Living and Drive Plus packages and D13K engines that produce 540 horsepower (403 kilowatts) and 2,600 newton-metres (1,918 pounds-foot) of torque. One of the trucks has a 40-tonne-per-metre crane and the other has a 65-tonne-per-metre crane, both from PM.
Both of the Volvo FH tractor units are based in Amazone's training and distribution facility in Auckley and the company plans to put roughly 60,000 to 70,000 miles (96,500 to 112,650 kilometres) on them per year. The company will also take advantage of Volvo Dynafleet to monitor the health and performance of the vehicles.
A Long Road Ahead
"We are now on our third generation of Volvos and we like to get 10 years' service out of each truck. We remain with Volvo due to the reliability levels we get with the brand," says Ian Caulkett, logistics manager at Amazone. "The FHs haul King step frame and plant trailers. Add in the fact that the loads we carry are not aerodynamic and each combination weighs in at around 25 tonnes empty, so it's fair to say that we don't live or die by fuel consumption figures. We have a good working relationship with Crossroads Truck and Bus Ltd in Rotherham and the FHs are covered by a three-year Volvo Service Contract."
---
Volvo FH Details
Volvo designs the FH series for minimum air resistance and maximum uptime. The truck comes with your choice of four sleeper cab configurations ranging from high roof to flattop. Notable features in the cab include Volvo's new neck-tilt steering wheel option and a high-backed seat with extra adjustment travel. Engine options for the Volvo FH include six-cylinder diesels ranging from 420 to 540 horsepower (313 to 403 kilowatts) and 2,100 to 2,600 newton-metres of torque. The truck comes in axle configurations ranging from 4x2 all the way up to 10x4.
You will find hundreds of new and used Volvo trucks, including a large selection of FH models, for sale at TruckLocator.