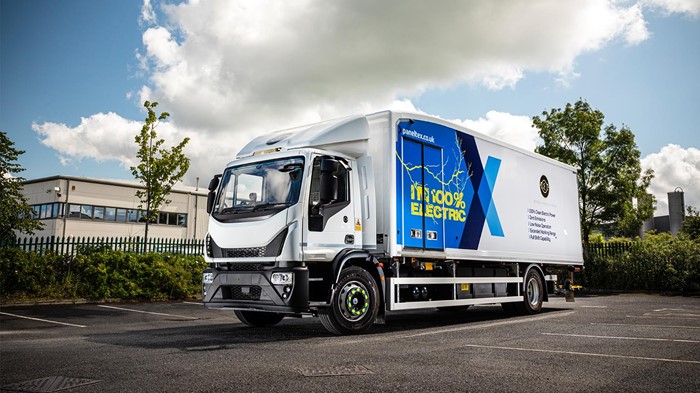 ---
In a partnership with Electra Commercial Vehicles of Blackburn, Lancashire, IVECO is now producing Eurocargo glider chassis at its manufacturing facility in Brescia, Italy. Glider chassis are trucks that don't include a powertrain, which IVECO says will help "ensure maximum efficiency for Electra's manufacturing programme" and "support faster delivery times to customers."
Electra offers a wide range of 100% electric, zero-emission trucks with GVWRs (gross vehicle weight ratings) ranging from 7.5 to 19 tonnes. The electric traction motor included in each vehicle can produce up to 350 kilowatts (470 horsepower) and 3,400 newton-metres (2,508 pounds-foot) of torque at peak or 260 kW (350 HP) and 2,060 N-m (1,520 lbf-ft) of torque continuously. Battery options range from 140 to 287 kWh, with a 205 kWh battery taking roughly five hours to recharge.
Already In Operation
One example of a vehicle already in operation is an Electra SEIV 19-350 model based on a 4x2 Eurocargo chassis, which features a temperature-controlled body from Paneltex. Another SEIV 19-350 is outfitted with Bucher Municipal Phoenix salt spreader bodywork and a Bucher snowplow. The salt spreader truck weighs in at 19 tonnes, but thanks to Electra paring its unladen weight down to 10,300 kilograms (22,707.6 pounds), it has "only a 360-kg loss of payload compared to a standard 18-tonne diesel-powered equivalent," IVECO explains.
---


A Vehicle "Fit For The Future"
"We have received a lot of interest from customers because the Eurocargo has such wide appeal in the market. It's a truck most fleets and bodybuilders are already familiar with, and is perfect for everything from dry and temperature-controlled multi-drop urban distribution to highways maintenance and even refuse collection applications," says Electra and NRG Fleet Services Chairman Sid Sadique. "Since adding the Eurocargo to our range interest has spiralled and we literally can't build them quickly enough. This is the perfect medium-weight truck for city deliveries, and we're confident we've created a game-changing commercial vehicle fit for the future."
You will find a large selection of new and used IVECO trucks, including hundreds of Eurocargo models, for sale every day on TruckLocator.