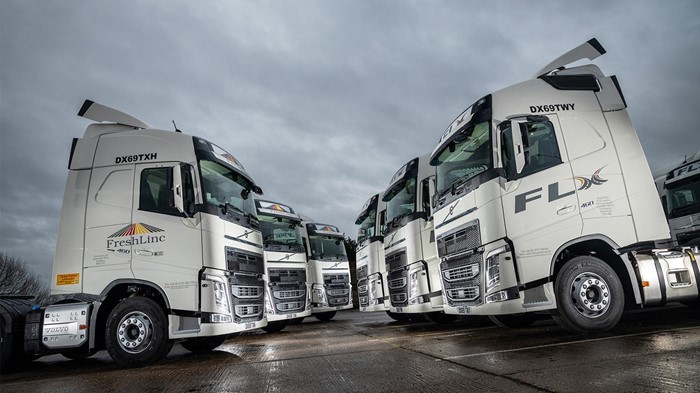 ---
FreshLinc Group, a supply chain management company based Lincolnshire, recently added 20 new Volvo FH trucks to its fleet. Four of the trucks will work for the company's temperature-controlled haulage business, FreshLinc, and the rest will handle general haulage operations for the company's FLX Logistics division. Each of the 6x2 pusher axle models features a Globetrotter Cab with single bed living package and 33-litre under-bunk fridge/freezer and a 13-litre Euro 6 engine that produces 460 horsepower (343 kilowatts) and 2,300 newton-metres of torque.
FreshLinc also opted for the long-haul fuel package, which includes special software for the I-Shift transmission, I-Cruise intelligence cruise control, and fuel-saving I-Roll technology. Volvo describes I-Roll as "a freewheel that saves fuel when neither engine power nor engine braking is needed, such as when driving on flat roads." The company plans to put roughly 180,000 kilometres on each of the trucks per year.
Fuel Efficient, Driver-Friendly
"The FH is a fantastic truck and we always receive positive driver feedback. That was one of the primary reasons we placed the order, as well as the great fuel economy they give us, strong residual values, and the excellent support we receive from the Volvo dealer network. We take all of our vehicles with a full repair and maintenance package, which works well for us when budgeting our annual maintenance costs," says Andy Marchant, fleet engineer at FreshLinc. "Our drivers love the Volvo product for its premium build quality, cab comfort and reliability. They work hard and know they can count on Volvo to get the job done."
Volvo FH Details
Volvo designs the FH series for minimum air resistance and maximum uptime. The truck comes with your choice of four sleeper cab configurations ranging from high roof to flattop. Notable features in the cab include Volvo's new neck-tilt steering wheel option and a high-backed seat with extra adjustment travel. Engine options for the Volvo FH include six-cylinder diesels ranging from 420 to 540 hp (313 to 403 kW) and 2,100 to 2,600 N-m of torque. The truck comes in axle configurations ranging from 4x2 all the way up to 10x4.
You will find hundreds of used Volvo trucks, including a large selection of Volvo FH 460s, for sale every day on TruckLocator.