---
Navajo Leasing, a commercial vehicle and airside equipment leasing and maintenance specialist based at the London Heathrow Airport, recently purchased three new IVECO Eurocargo trucks and plans to add more later this year. All three 18-tonners feature 6.7-litre Tector diesel engines, which produce 250 horsepower (186 kilowatts) and up to 850 newton-metres (627 pounds-foot) of torque, and custom AMSS flatbed bodywork. The bodies are equipped with rollers designed to handle palletised air freight. This most recent order gives IVECO an 80% share of Navajo Leasing's 50-vehicle fleet. The company purchased its first IVECO more than 10 years ago.
HI-SCR Was A Major Selling Point
The fact that each of the Eurocargos features HI-SCR engine technology essentially made the purchasing decision for Navajo Leasing. HI-SCR, according to IVECO, "eliminates the need for Euro 6 vehicles to make periodic stops for forced regeneration." It involves a unique process where instead of recirculating exhaust gas, it pulls in fresh air, making it the only emission control system that does not change the combustion process, IVECO says. Using this method, the system can reduce particulate matter without an active diesel particular filter, which is the source of the forced regeneration issue. HI-SCR is also lighter-weight to improve fuel efficiency and features fewer components for easier maintenance.
"The Eurocargo has consistently been a solid performer for us and was always going to be my preferred choice of vehicle when we needed to expand the fleet. HI-SCR has meant forced regeneration is now a thing of the past within our fleet, helping to increase productivity levels and reduce fleet downtime," says Allan Gardner, CEO of Navajo Leasing. "When using similar vehicles from other manufacturers, we used to lose between two to four hours every week because of forced regeneration cycles. IVECO's system has had such a positive impact that we're planning to buy a further six Eurocargos later this year."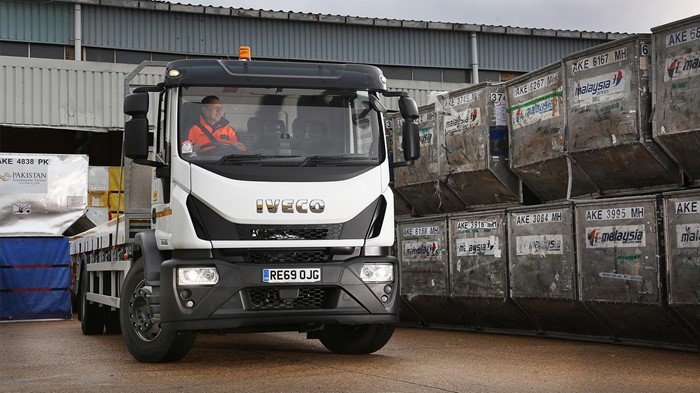 ---


IVECO Eurocargo Details
The versatile IVECO Eurocargo is available with body lengths ranging from 4,265 to 10,175 millimetres (167.9 to 400.6 inches), making it well-suited to a wide range of applications, including local delivery and distribution, refuse collection, and more. With newer models, IVECO focused on operator comfort with an air-suspended driver's seat, ergonomic steering wheel controls, and additional storage compartments.
Engine options include 4.5-litre Tector 5 and 6.7-litre Tector 7 diesel options that produce between 160 and 320 hp (119 and 239 kW) and up to 1,100 N-m (811 lbf-ft) of max torque. All diesel Eurocargos come standard with the HI-SCR aftertreatment system and passive regeneration DPFs. There is also a CNG-powered model that produces 204 hp (152 kW) and up to 750 N-m (553.2 lbf-ft) of torque. Gearbox options include six- and nine-speed manual, six- and 12-speed automated, and fully automatic transmissions with torque converters.
You will find a large selection of new and used IVECO trucks, including hundreds of Eurocargo models, for sale every day on TruckLocator.