---
MPB Structures, a concrete frame construction company with offices in Birmingham, Corby, London, and Manchester, recently added three Volvo FH tractor units to its fleet to replace three older FH models. The three-truck order consists of one Volvo FH 540 and two FH 500s, all of which have 6x2 axle configurations. The 540-horsepower (403-kilowatt) FH will haul construction machinery using a low loader trailer, while the 500-hp (373-kW) duo will haul building materials using flatbed trailers. Volvo adds that MPB may sometimes use the vehicles on weekends to "move sections of tower cranes to building sites nationwide."
Volvo's FH series offers engines ranging from 420 to 540 hp (313 to 403 kW) that produce between 2,100 and 2,600 newton-metres of torque. They are also available with axle configurations ranging from 4x2 to 10x4.
Safe & Reliable
MPB Structures added several safety features to each of its new tractor units to meet FORS Silver and CLOCS standards, including 360-degree cameras, a white noise reversing alarm, LED beacons, and a nearside Sidescan cycle safety system. The firm also added two lockers on the trucks' exteriors for storing loading straps. MPB plans to put 80,000 kilometres (49,710 miles) on the FHs each year, and because they're covered by Volvo Gold Contracts, the company knows it will have 100% uptime.
"Quite simply, we find things work better when you run Volvos," says MPB Transport Manager Mark Price. "The trucks these replace didn't miss a beat in service, so it made sense to plan on keeping their replacements for a little longer. Aside from a puncture, we simply never had a breakdown – and the only workshop which ever saw them was our local dealer in Wellingborough for routine maintenance."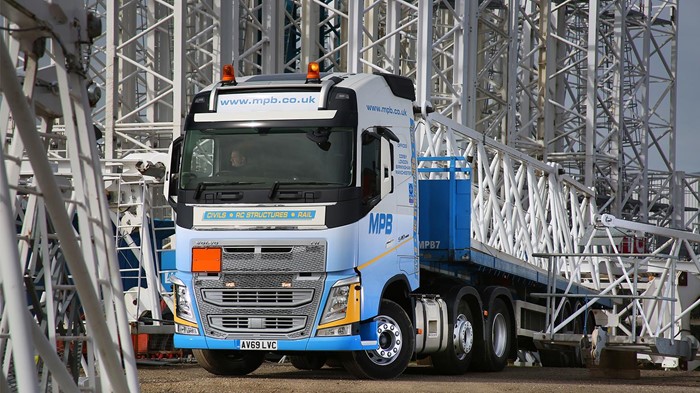 ---


Cab Comfort
Another major selling point for the new Volvos was the available Globetrotter cab. It has space to sleep two people and an interior height of 80.7 inches. FH models are also available with Globetrotter XL and XXL options that provide even more interior space. For MPB Structures, a big plus is the Volvo My Truck remote access application, which gives drivers the ability to set the climate inside the cab, make sure doors are locked, and more.
"Our trucks can frequently stand for a couple of days between jobs, so the team use the app to check fuel, oil, coolant and fluid levels as well as battery and light status before they need to set off," says Price. "It gives us additional confidence in the truck's pre-trip readiness, plus our drivers love being able to pre-warm the cab on colder days. It's a really nice feature for them."
You will find hundreds of new and used Volvo trucks, including a large selection of FH models, for sale at TruckLocator.