---
The Eurocargo story dates back to 1959, before even the formation of IVECO itself, with the Lupetto from OM. Lupettos could be found throughout Italy in the 1960s, carrying goods across rural and city sectors. In the '70s, OM built upon the success of the Lupetto with the Z range, which fit the needs of light-to-medium transport with payloads from 2.5 to 6.5 tonnes. Both Lupetto and Z range trucks were built in OM's plant in Brescia, and the same plant is home to the Eurocargo, as all generations of the medium-duty truck have been produced at Brescia since the truck's introduction in 1991. IVECO continues to improve the truck's ability to carry goods, making it an ideal option for local delivery and distribution, refuse collection, and more.
The New Eurocargo
IVECO gave the Eurocargo series a major update in 2015, focusing on making the truck more efficient, manoeuvrable, and sustainable. For example, standard safety features include airbags, a lane departure warning system, adaptive cruise control, and an emergency braking system that can detect obstacles and take preventative action before collisions occur. IVECO also reduced the cab width—now only 2.1 metres (6.9 feet)—and improved the steering angle (52 degrees) to make the truck more manoeuvrable on urban missions.
Iveco claims that the updated Eurocargo trucks use 8% less diesel fuel than their predecessors, thanks to a combination of the latest Tector engines, IVECO's EcoRoll feature (available on six- to 12-speed automated gearboxes to maximize gear change logic), and an electronically controlled two-speed fan clutch. CNG (compressed natural gas) models are also available to further amplify fuel savings and sustainability.
---


Mid-Size Versatility & Power
IVECO Eurocargo is available with body lengths ranging from 4,265 to 10,175 millimetres (167.9 to 400.6 inches), making it well-suited to a wide range of city distribution tasks. The truck's side members are parallel along the entire length and are pre-configured to simplify assembly of the superstructure. Operators can pick between day cab, sleeper cab, and crew cab options. With the sleeper cab, IVECO offers standard and high-roof versions. On the crew cab, the Eurocargo can accommodate up to six passengers, in addition to the driver.
Power options include 4.5-litre Tector 5 and 6.7-litre Tector 7 diesel engines that produce between 160 and 320 horsepower (119 and 239 kilowatts) and up to 1,100 newton-metres (811 pounds-foot) of max torque. All diesel Eurocargos come standard with the HI-SCR aftertreatment system and passive regeneration DPFs. HI-SCR is also lighter-weight to improve fuel efficiency and features fewer components for easier maintenance. The CNG variant produces 204 hp (152 kW) and up to 750 N-m (553 lbf-ft) of torque. Gearbox options include six- and nine-speed manual, six- and 12-speed automated, and fully automatic transmissions with torque converters.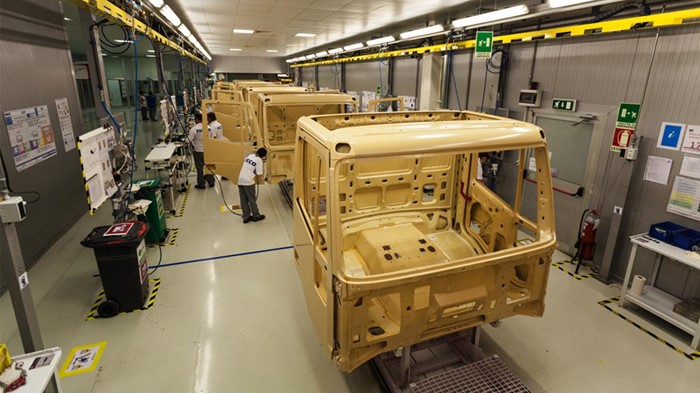 ---


Find Your IVECO Eurocargo
You will find hundreds of new and used IVECO trucks, including a big selection of Eurocargo models, for sale every day on TruckLocator.