---
With its drivers being away for up to two weeks at a time, Cambridgeshire-based haulier Brian Easey Transport was focused on finding the most fuel-efficient option when selecting a new tractor unit for its fleet. The firm chose Volvo's FH Lite, a 44-tonne tractor with I-Save, a technology that combines the D13TC Euro-6 Step D engine with turbo-compounding and updated fuel efficiency features to save up to 7% on fuel when compared to a standard D13 Euro 6 Step D engine.
Built For Long-Distance Tanking
The FH Lite's 500 horsepower (373-kilowatt) engine—when combined with I-Save—produces up to up to 300 newton-metres (221 pounds-foot) of extra torque to reduce acceleration and fuel consumption in steady motorway traffic. And because the tractor is expected to cover roughly 130,000 kilometres (80,780 miles) a year, the efficiency gains are considerable. "The fuel figures this new Volvo can potentially give us are exciting," says owner Brian Easey. The new tractor is also fitted Volvo's Lite pusher axle, helping to maximise payload potential. Brian Easey Transport configured the tractor with a 4,000 mm wheelbase, and the Globetrotter cab is specified with a one-bed living package, a media pack with navigation, and a Drive+ package for added comfort.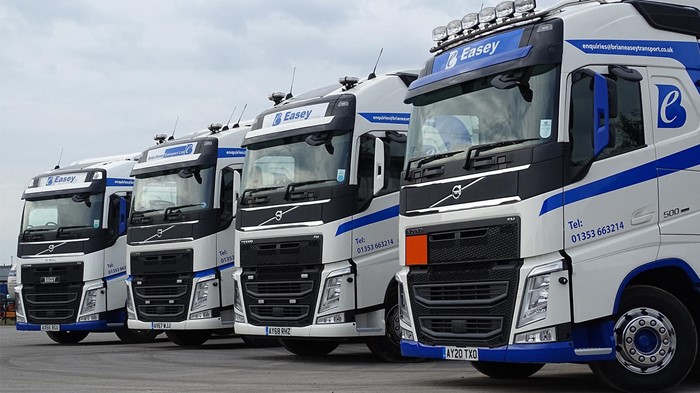 ---
More On The Volvo FH
Winner of the International Truck of the Year in 1994, 2000, and 2014, Volvo's FH has a lengthy and successful history. Volvo announced a new generation of Volvo FH tractors and trucks earlier this year, highlighted by the latest efficient driving technologies and safety features. The FH16 is the new flagship in the heavy-duty truck lineup, featuring a six-cylinder 16-litre Euro 6 D16K engine that outputs from 550 to 750 horsepower (410 to 550 kilowatts) and 2,800 to 3,550 newton-metres of torque. FH16 Tractor and rigid truck variants are available, and axle configuration options include 4x2, 6x2, 8x2, 8x4, and 10x4.
A wide selection of FH 13 and FH LNG tractor configurations are also available. Features like I-Save help to reduce fuel consumption and improve torque in long-haul operations. Volvo FH trucks with Euro 3 and Euro 5 engines can also utilise Volvo Torque Assist to deliver fuel savings. Safety features like adaptive high beam headlights, adaptive cruise control, downhill cruise control, and an electronically-controlled braking system can be found throughout the new generation Volvo FH series.
---


Find Your Volvo Truck
Truck Locator's online marketplace is the industry's go-to source for hundreds of new and used Volvo trucks for sale every day, including a big selection of Volvo FH models like the FH16.